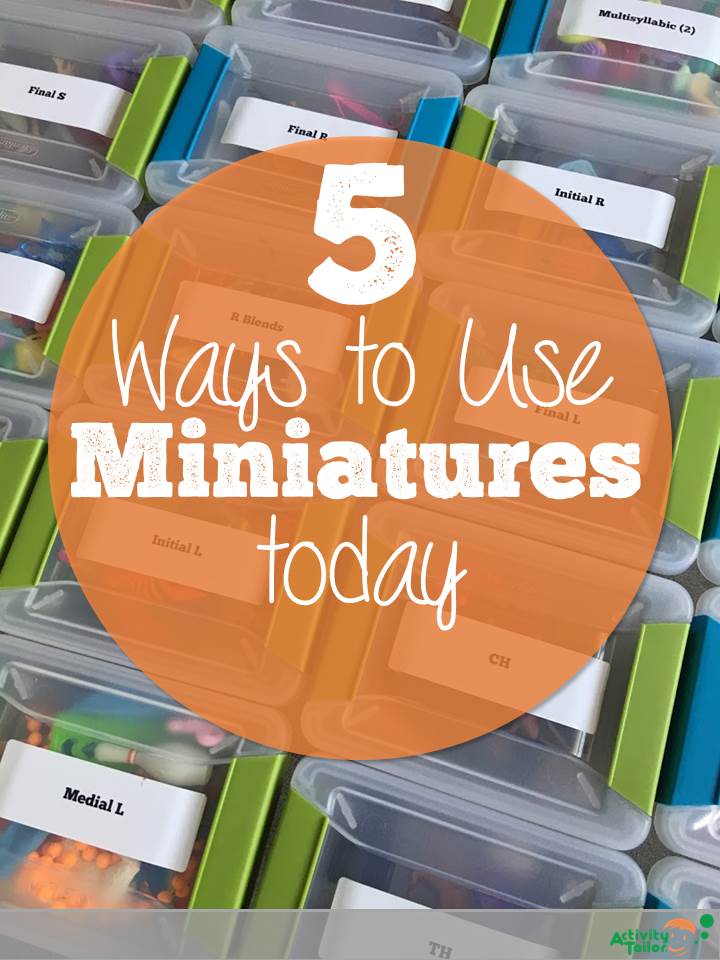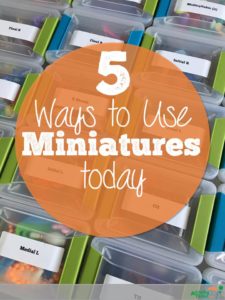 Despite the fact that I can't stand Polly Pocket, I am downright obsessed with miniatures. I have a collection I've been building for years that's probably worth a $100,000…to me. Not that I'd pay that, I'm just saying, it's valuable.
I wrote about this years ago, and at the time I was storing my items in catering containers. It's still an inexpensive and organized way to go (although I had to switch from 8 oz. to 16 oz. containers at some point to accommodate the quantities of some groups), but this year I splurged and bought small storage containers with locking lids that are easier for me to stack and open and close. It was also to help motivate me to reorganize the groups.
I'd been guilty of mixing groups for all sorts of reasons and I needed a reset so therapy prep would be easy again.
You can buy itty-bitty charms for I Spy on Etsy (try DinkyDoodads) which are great, but I like to have an assortment of bigger than that too. Think Lego mini-figure or plastic animal or toy soldier size. They're easier for my students to manipulate and we can actually find them in a bin of sand or rice.
I love the Safari Toob figures (expensive, but you can sometimes get deals and there are knock offs), mini erasers (Five Below sells packs inexpensively, Party City allows you to buy them individually) and plastic figures. Again, Party City has these with party favors and Oriental Trading has bulk packs. I also tend to add items from Dollar Tree as I spot them. The Disney and Marvel figurines are great because the kids know who they are and they tend to have good names for articulation targets. Cruella and the Joker recently joined my R blends and J boxes respectively. By the way, I often glue some of the eraser components on if I think they are likely to get pulled apart or easily fall off. DinkyDoodads does have larger items as well.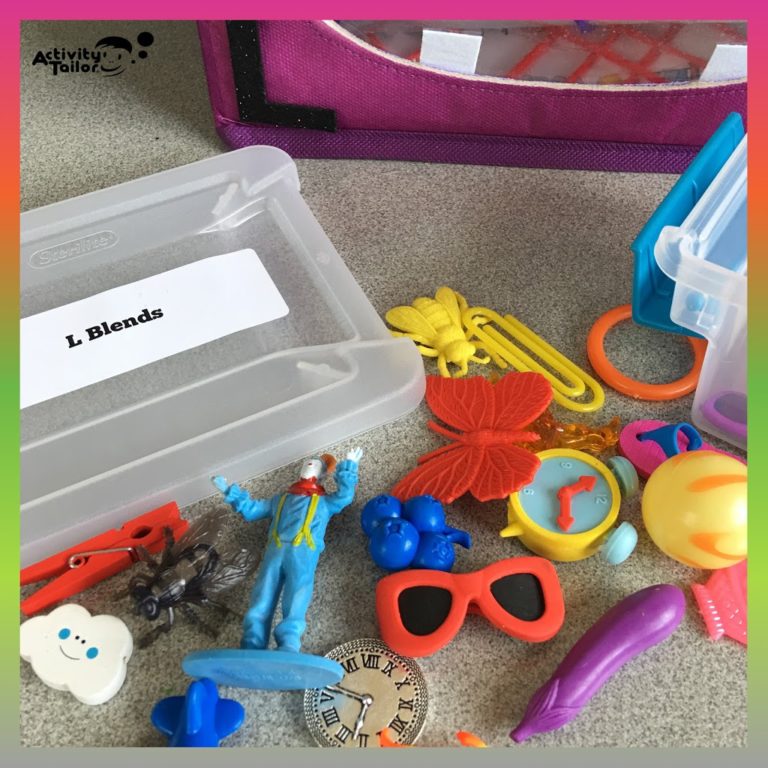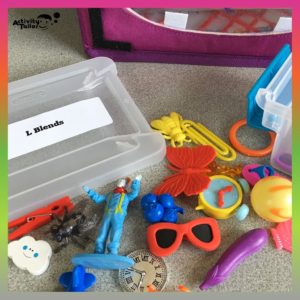 But don't stay strictly in the toy aisle. I picked up a little transparent "suitcase" of sewing supplies. It added two spools, mini scissors, a thimble, a small measuring tape and three threads to my boxes. (Note: I took the thread off two spools and glued the thread flat on the others.) I also bought a three pack of mini baby shampoo, lotion and body wash (three SH items!). I dumped out or used most of the potions and glued the lids on.
Still short some targets? Try making your own miniatures!
Is all this compiling worth the aggravation? I think so! Here are just a few activities that my students and I do (after we've labelled each as it came out of the box):
Shell game: Ok, so I use Solo cups or my Lids 'n Lizards lids, but it's still a shell game. I hide all of the targets under the cups plus a few things that don't belong—maybe something like a toy bug. You could also use fake poop; for whatever reason, all the toy aisles seem full of fake poop these days. It's not my thing, but you could. Anyway, the child picks up cups, labeling each item they uncover, trying to uncover all items before they get all of the icky ones that don't belong.
What's Missing: Do you remember this game? You put out an array of objects and have the students close their eyes. Remove one object. Have them open their eyes and label the missing item.
Grandmother Went to Market: Again, this is a classic kids' game and now we have the added visual prompt if you want. Start the chain with, "My grandmother went to market and bought a….(label one object). My grandmother went to market and bought a (label the first item again, and then the second)." Continue until you've labeled all of the items. You can remove or cover each item as you add it to keep the memory component of the game.
Does it belong? This is silly fun. You can get a bowl or a little suitcase or a little backpack or even a little habitat. Sort the items based on whether or not they'd belong. For instance, with the bowl, you might say, "Carrots. Can carrots go in our soup?" then "Eraser. Should an eraser go in our soup?" You get the idea!
Story Add On: This is a great way to work on carry-over articulation and expressive language skills. Choose an item and start the story. After you add a sentence, it's time for the next person to add on. If you have mixed groups, you can give each child a few miniatures with their target sound and they use on their turn.
I find my kiddos are more receptive to little trinkets than artic cards and it's a fun, easy change to our usual activities. Let me know how you use them below.