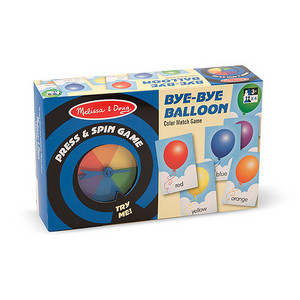 Our family is a bit spread out and when the kids were little I'd get lots of calls around birthdays and holidays for suggestions on what to send. Melissa and Doug items were often at the top of the list, not just because they were well made and lasted, but because they actually worked the way you expected them to.
I recently added their "Bye-Bye Balloon Press & Spin Game" to my therapy closet. In the past, I had thought of them for art products, puzzles and open ended toy items, but I was excited to see what they could offer in a game. They didn't disappoint!
Quick overview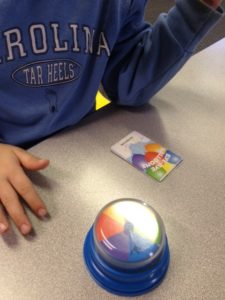 "Bye-Bye Balloons" has a simple premise and is recommended for kids ages 3 and up. You press the large popping spinner, much more manageable motorically than a traditional one, to select the balloon color and then depending on your game level you might be matching colors then discarding a card or spinning, matching from an array of 4 and drawing if you don't have a match.
But there are so many fun speech and language options to include as well!
Articulation
Bilabials (and basic vocabulary): How many little people need work on these early sounds? Lots, especially those kiddos with motor involvement. We all use bubbles, but here's a game that allows you to use the same vocabulary and expand it for a different circumstance. You could press and spin, labeling the color and then matching it to a balloon card (vocabulary). Incorporate "my balloon" (or an approximation) and then say "up" or "bye-bye" as one player raises the balloon above your heads (your PT will cheer!). You might even consider "blowing" the balloon into the air depending on your kiddos needs. Then together you could say "pop," pretend to poke the balloon and dramatically have it float to the floor with a "pppppppp," "mmmmm," or "bbbbbbbbbb" sound.
Targeting /s/: All of the sudden I have a few new "s" students. We start by "blowing" up a couple of balloons with the "bite, smile, blow" technique and then we start to play. We divide all the cards and take turns pressing the spinner. If it lands on the color of a balloon you have, you hold the balloon up, the other person "pops" it and the player helps it drift to the ground as the air escapes in a long isolated "s". It's been a great way to keep kids engaged during an often tedious portion of therapy, that of initial tongue/jaw positioning.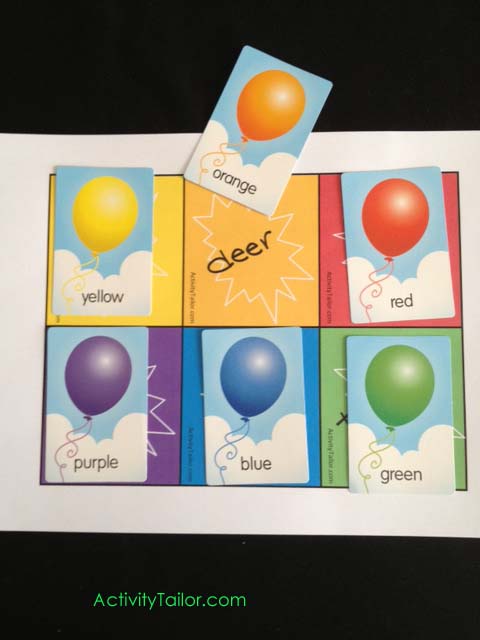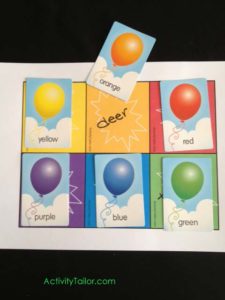 General articulation: For this, make a mat with a colored space for the balloon cards and include a written or picture prompt. Place the balloon cards over them and spin to find out which balloon to "pop" then say the word beneath. (I would re-cover each popped balloon until we were "out" of that color, 24 balloons=4 trials of each of the six words). I've included a link below if you'd like to use my "popped balloon" sheet.
Language
Looking for language concepts instead? The game is designed to target color matching, but you can easily target more difficult skills.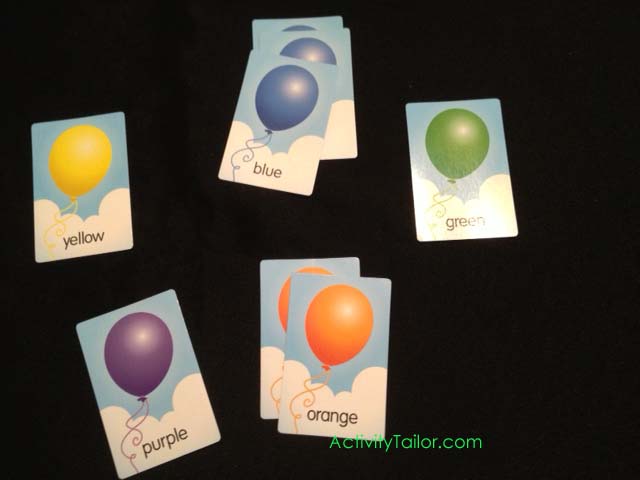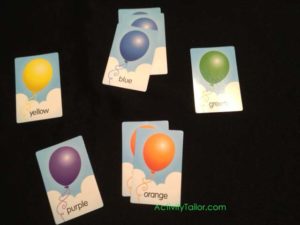 Quantity concepts: Press the spinner 8-15 times and collect the appropriate balloons. Now discuss whether you collected "all", "some/a few", or "none" of each color. You could also create a sorting mat to graph how many of each color you had.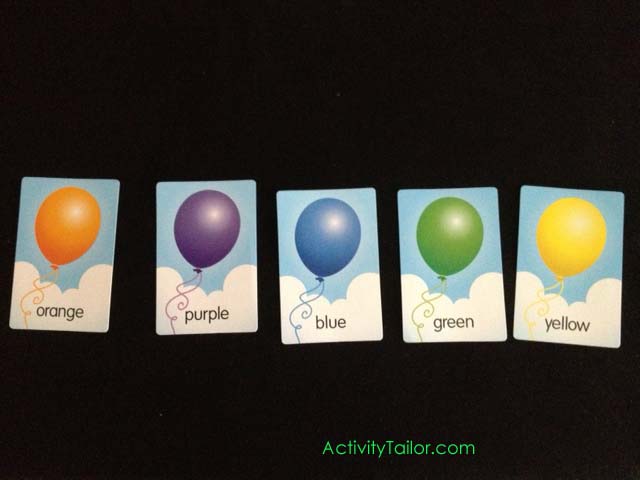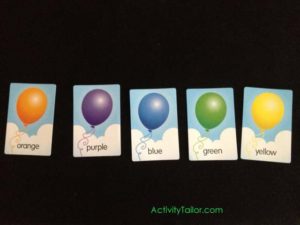 Temporal concepts: Press the spinner 3-5 times and after each spin place the appropriate balloon in a line. Once you have a line of balloons you can discuss 1st through 5th or target before/after concepts (i.e. Did you spin the blue balloon after the orange balloon? Which color did you spin just before the green balloon?)
Springtime always makes me think of kites and balloons. Hope these suggestions have you floating on air! (For the "Popped Balloons" sheet click here: Popped Balloons for Bye-Bye Balloons
You can check out more ideas for temporal concepts in my post at the Melissa and Doug blog.
This post was sponsored by Melissa and Doug, but all opinions and therapy ideas are my own. If you are looking for a treat to send home for spring break check out their free mini mag printable. It's a collaboration between Highlights and Melissa and Doug!