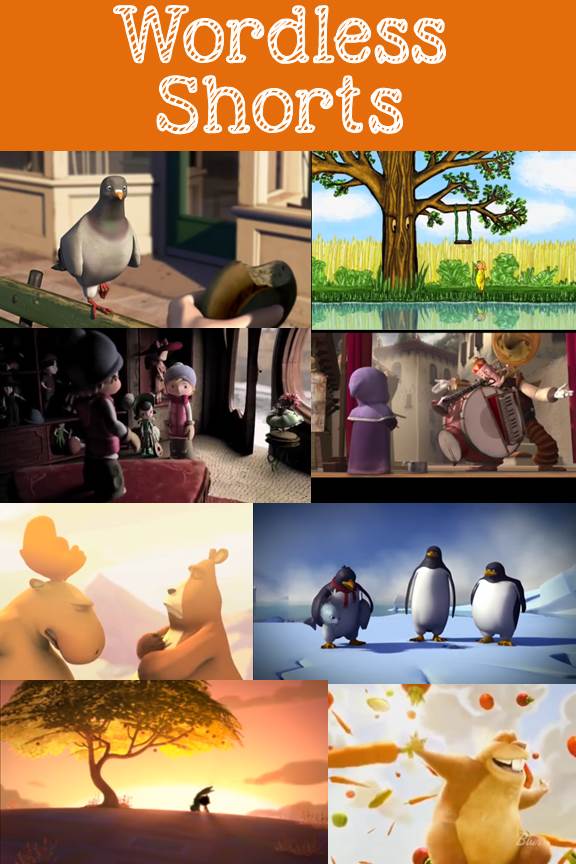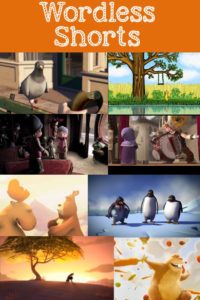 Are you a big fan of wordless picture books? What about upping the ante to animated wordless shorts?! I was inspired by the adorable "Hola Llamigo" video that Sarah at Speech is Beautiful shared a link to a few weeks ago and used it with several students. It was a novel, fun way to work on story re-telling, sequencing, vocabulary and inferencing so I started looking for more. Here's a list of a few along with a quick description (for your eyes only!) and the run time. Click on the title to link to the video.
A couple of quick notes…
I tried to make sure these clips were uploaded without copyright infringement and that links go to the source, but can't make guarantees.
These are animated shorts for entertainment purposes, so there may be cartoon violence. Please watch in the entirety before sharing with your students to be sure it's appropriate!
Finally, there seems to be no telling what viewers will say in "comments." If your students are readers, I suggest opening the video to full screen immediately and privately.
This is a really sweet, imagined scenario by a girl drawing in class. With the aid of a butterfly, she manages to get a too-high-in-the-tree swing, lower. Too low. With a little more assistance, she gets it to "just right" and then discovers she wasn't the only one to discover the secret! This would be a good one for discussing the power of our imagination and, perhaps, even drawing comparisons to "Goldilocks" and the idea of too much one way, too much another, before settling on "just right" (and how that might be different depending on your perspective.)
You can access the entire short with an inexpensive purchase, but the trailer clip is a complete story as well. A little girl has a single coin that she is about to throw into the fountain until a one man band catches her eye. Kiddos will love the effort he puts into trying to earn that coin and then watching the "duel" between him and another street musician.
Adorable short about the friendship between a boy and a llama piñata. This is a particularly good clip for working on inferencing/perspective taking because there is a moment in which the boy fears his beloved piñata is heading to its demise. There's also a moment in which he thinks the llama is outside of his window that I use as a prompt, "why did he think the llama was waiting for him?" I like the multicultural element of this as well. Might be something to bookmark for Cinco de Mayo.
A bear and a moose begin crossing a rope bridge at the same time, only to meet in the middle where neither will concede their spot. Add a raccoon and a rabbit, also coming from opposing sides. This time the large animals are in agreement and quickly dispatch with the little guys. Big mistake. Those clever little creatures make short work of the bridge supports on one side, dumping the large animals into the river below (the end credits show the unhurt bear and moose continuing their argument down in the water) and begin the trek across again. When they meet in the middle, they are able to come up with a more appropriate method for handling the situation. Great for discussing problem solving strategies. You might even want to discuss cartoon consequences vs. real life consequences.
A cheeky penguin with excellent fishing skills, not to mention pilfering skills, gets his due when a seal and polar bear decide to use him to their advantage. Very cute! This would be good for discussing the importance of being a good winner and not cheating though the revenge at the end isn't the greatest role model! Ask your kiddos, "who is named Sam?"
This cute gopher is a real go-getter and intent of scoring produce from the trucks heading to the farmer's market. Unfortunately, while he manages to get several trucks to bounce veggies off the truck (by hitting a gopher hole, natch) other critters take off with the goods before he can grab them. The final scene has a cow bouncing off the back of a truck, with a slow motion cow bottom in all of its "glory" landing right on him. (This could cause a near-riot with some of your older students. Watch in advance!) The final shot does show the gopher clearly adhered to one bottom cow cheek as the truck drives away—which is a bit of a relief, for the viewer at least. I like the repetitiveness of this short—truck bounces out something, gopher loses out, gopher tweaks plan.
A secret service agent has his high-tech briefcase confiscated by a pigeon and, as you might imagine, the series of events causes havoc in DC. While the story is high energy and appealing, be forewarned that the pigeon does not meet with a happy ending. This particular short has more cartoon violence/weaponry than the others.
Ok, this is a scary one and I'm including it for those SLPs looking for something for their older kiddos and by this I mean older elementary/middle/high school students. A young girl is intrigued by the enchanted toys within a closed toy store, especially one that looks just like her, but a visit inside ends with her being entrapped herself. As the scene wraps you realize you are looking at an entire shop of trapped children. Creepy!
Do you have favorite wordless shorts to add? Please add the link below!
SLP Subscribers receive access to my virtual therapy closet of free resources, weekly newsletter with tips and bonus freebies plus giveaways and early sale info. Sign up here.