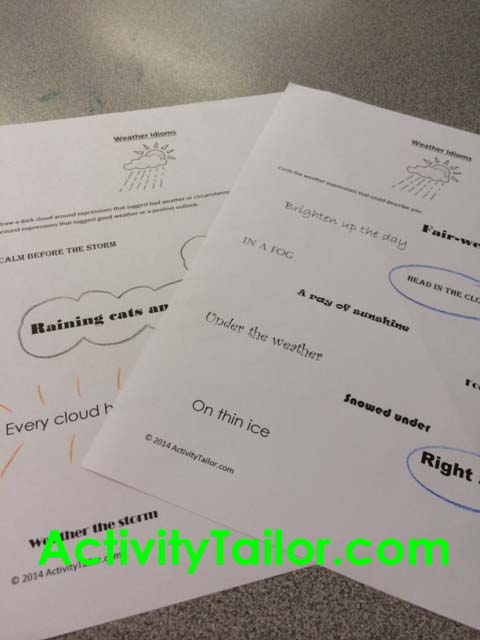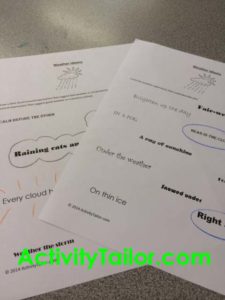 For social pleasantries, the weather has always been a safe topic of conversation. At least until this winter! Even my little ones are complaining about the cold and the ice/snow!
Preschool/Kindergarten teachers know that spring, should it ever arrive, is a great time to discuss all things weather related since it's a time of great weather variability. This March, my area of the country will have seen temperatures from the teens to the 70s, ice, rain, gusty winds and beautiful mild days. Weather whiplash!
But older students can get in on the fun as well by exploring weather idioms. I've put together two activities (plus an answer key) covering 18 weather related expressions. Once you've discussed or defined the meanings, students can fill out the first worksheet which calls for determining bad weather/circumstance vs. good weather/circumstance. Then, try the second worksheet in which you'll decide which weather expression(s) best suit you. Are you a "fair-weather friend" or "a ray of sunshine?" Are you "in a fog" or "right as rain?"
To pick up your Weather Idioms FREEBIE click here. Feedback and follows are always appreciated!
Is there a weather idiom that best describes you right now? Are you feeling snowed under by paperwork or do you brighten your students' day?