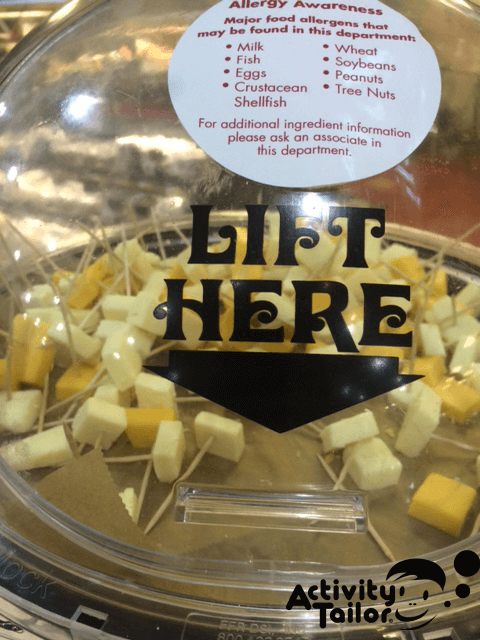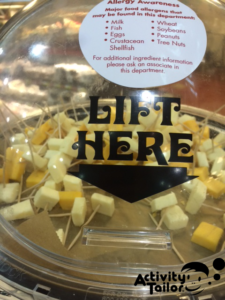 I know so many moms who lament the grocery store cookies. And cheese samples. And lunch meat samples. And produce samples. But these are some of the greatest and best opportunities for our students to practice initiating conversations, making requests and establishing social skills. We should be encouraging sample consumption!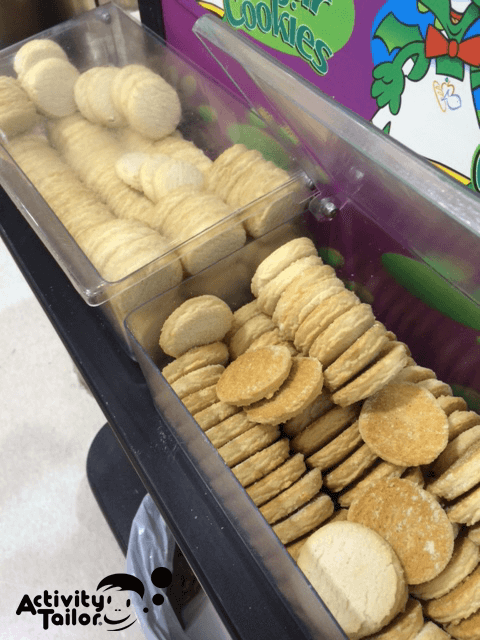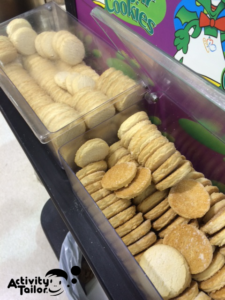 At my local, higher end grocery store, every child knows that you need to ask the attendant at the bakery counter for a cookie.
"May I have a cookie?"
You may, (oh happy day!) even be offered a choice between sugar or chocolate chip.
"Chocolate chip, please."
The cookie is passed.
"Thank you."
In my more run of the mill grocery store, the cookies are in a bin of sorts on a mascot display. For really little kids, they are unable to reach the bin themselves, so they can make the request directly to the parent with the added bonus that, in the cart, they are closer to eye level.
"Want cookie, mama."
Encourage parents to ask a question even if all of the cookies are identical. "Do you want a big cookie?"
For a child big enough to reach the bin themselves, you might suggest a pretend exchange. (Our grocery store—Harris Teeter—has a dragon named Harry as the mascot.)
"May I have a cookie, Harry?"
"Thank you so much, Harry!"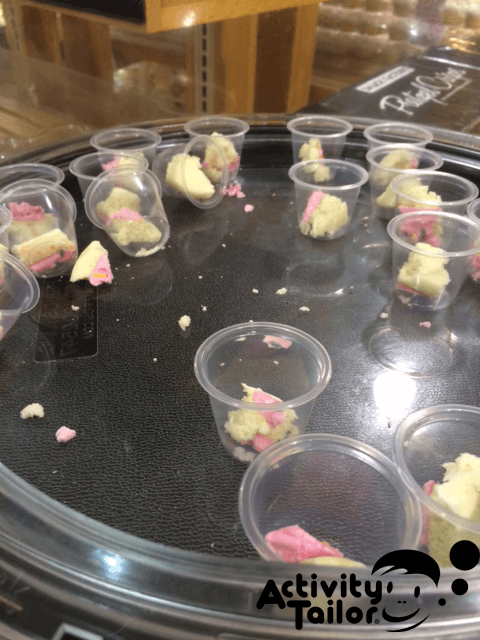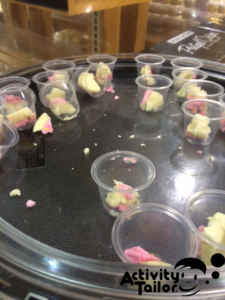 For older children, you might take the opportunity to have them approach employees to ask about allergens or to refill the bin (ours goes down at a rate exponentially faster than the number of kids in the store).
At the cheese/lunchmeat sample displays, you might encourage parents to ask their child, "Do you want cheese?" Assuming the response is "yes," the parent could choose two pieces and emphasize possessive concepts as they pass them out.
"Your cheese. My cheese."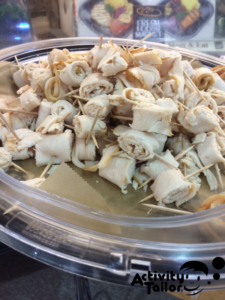 Older children can order the deli meat. "I need one pound of turkey, please."
Most adults have more patience for social exchanges like these with children so it's a great chance to practice with unfamiliar listeners.
For a parent handout on grocery store conversations click here.
What store samples do you have the toughest time passing by? I'm kind of partial to the tiny wine tastes on Saturday afternoon.