I always had a book in hand as a child, and often still do, so I couldn't resist this post from my other New Blogger Contest winner, Anne Page at Beautiful Speech Life!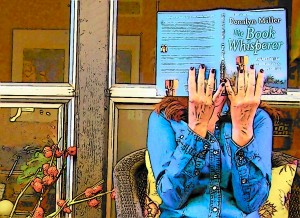 I have been reading Donalyn Miller's The Book Whisperer and I'm hanging on every word. Yes, I am a book nerd. I have always been an avid reader. I love everything about books: the colorful covers, the back flap, the different fonts and the feel of the edge of a page as I get ready to turn it.
Through books I travel, I make friends, I build character, I open my mind, and for a brief time, escape the demands of the day.
When I was a little girl, about 8 or 9 years old, my mom took me to one of my favorite places, the library. She told me I could stay while she went across the park to the grocery store. This was in clean, green Boulder city, a safe little town (back in the day). I was in heaven and quickly became lost in my book reverie. When I had my stack of books, I placed them on the counter and waited to check them out. And waited, and waited.
I was really shy then, but soon called out a timid "Hello?" No answer. I had been so quiet, the librarian didn't realize I was there and had left. When no one answered, I went to the door. Locked. I was scared and trapped. No cell phones back then, I had no way of contacting my mom.
I opened the mail slot in the heavy wooden door and looked out into the street. I must have started yelling because I remember a lady on the sidewalk saying "Little girl, are you locked in there?" Luckily, the police station was right next door and my mom came to pick me up right as the police were helping me out. I'm sure she got a scare!
I still love libraries, no permanent damage was done. My point is how many of the kids that we work with love books and reading so much that they can get lost in them? How can we get them to be enthusiastic about books when they have language impairments and reading disabilities? Is it possible?
Donalyn Miller says a resounding "Yes!" and I agree with her. But it's not going to be easy and many things will have to change.
The Book Whisperer is all about making reading magical again. In Donalyn's classroom there are no book reports, comprehension worksheets and group reading. The focus is on independent reading and individual choice of reading material. The kids get excited about reading and learn authentic reading behaviors. Her 6th graders read 40 books a year AND achieve high scores on standardized tests. Best of all, she is creating a new generation of readers! I want to do that too! Watch for upcoming posts on what I try.
If you enjoyed this post let Anne know by leaving a comment or heading over to her pretty blog and subscribing!
Beautiful Speech Life is a participant in the Amazon Services LLC Associates Program, an affiliate advertising program designed to provide a means for sites to earn advertising fees by advertising and linking to amazon.com.