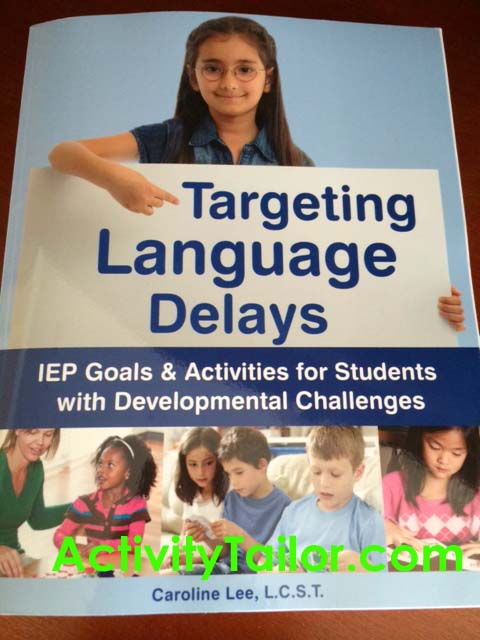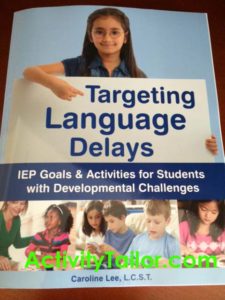 ***Congratulations to Damaris who won a free copy of this resource!***
A few months ago I was contacted by Woodbine House and asked to review Targeting Language Delays by Caroline Lee, L.C.S.T. I was happy to do so, but was a little shocked when the manuscript arrived. It was huge!
The aim of the book (and its subtitle) is to provide IEP goals and activities for students with developmental challenges. Ambitious, huh?! It takes a systematic, developmental hierarchy of goals, breaking them down into individual components, and offers activities to address each.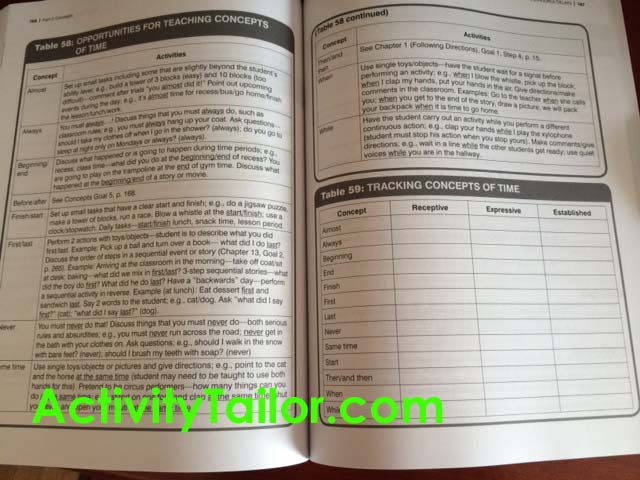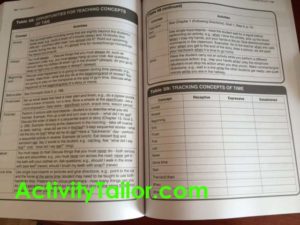 So, you'll have a general goal such as, "The student will understand and use concepts of_____" with an achievement criteria (80-90% accuracy).
It's then broken down into 1-6 smaller goals like "concepts of position (prepostions)" or "concepts of quantity."
Each goal begins with an introduction which includes the prerequisite skills needed and revisions based on whether you need to target receptive, expressive or carryover of the skill. Often there is also a list of materials, activities, including a stimulus list and/or a sheet for tracking data.
Sometimes chapters will also give recommendations for chapters/goals that include further work in the same area.
It's a great resource for newer clinicians, assistants and interns that need hand holding and even parents. It's a blessing for the experienced clinician that wants to double check their work, is starting to address less familiar treatment areas or simply finds themselves too taxed at the end of the day to generate new goals for each student. It's a huge time saver!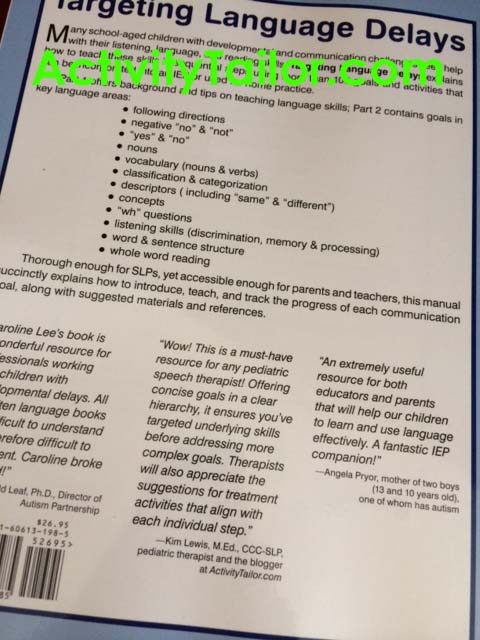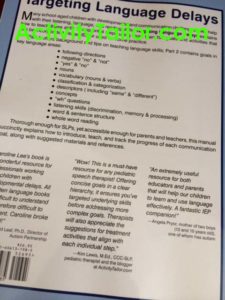 The book is divided into two sections, Part 1 gives tips on improving communication skills and Part 2 has chapters on each IEP goal including: following directions, negatives, same/different, questions (yes/no and wh-), vocabulary development (nouns and verbs), descriptive concepts, categorization, sentence structure, listening skills and whole word reading. The book is paperback, 400 pages and retails for $26.95.
Woodbine provided me with a copy for review and another for a giveaway, but all opinions here are strictly my own. To enter the giveaway, leave a comment below with the language goal you find yourself targeting most often. You must have a US mailing address to enter. Leave your comment by midnight EST on May 11, 2014. The winner will be drawn at random and announced on Monday, May 12, 2014. Good luck!
And remember, the TpT Teacher Appreciation Sale is going on through May 8, 2014. My store will be 20% off and you can use code: TPTXO for additional discounts at checkout.