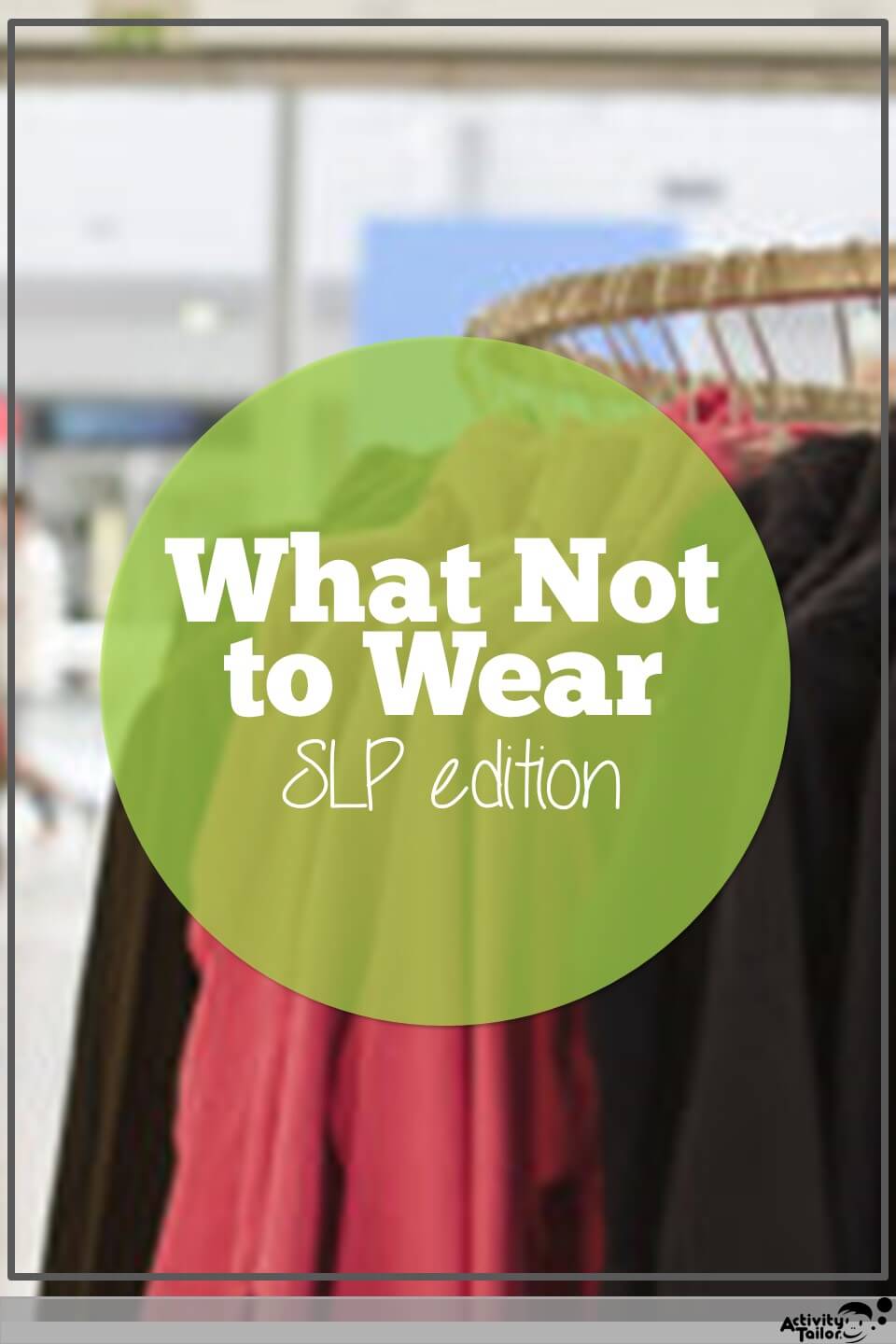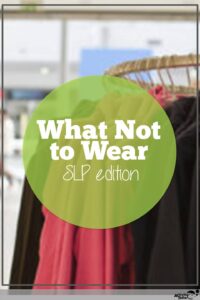 Where would an episode of "SLP What Not to Wear" start?
The graduate school clinic had strict dress code guidelines and you could always tell which students had a coveted client in the afternoon. Nearly everyone was dragging themselves to class in athletic wear or jeans, but they sat there in pressed shirts and pants or skirt. Real shoes, too.
I am so very thankful that smart phones weren't available during my CFY which would have resulted in ubiquitous therapy photos of me (and every other therapist in that rehab clinic) in jeans and t-shirts and shoes that slid off easily. What was I thinking?!
I know what I was thinking. The kids were nearly all moderately to severely involved and our jobs involved a lot of lifting, transferring, fluids…who was going to wear a dry clean only item that was bound to be ruined by lunch? It seemed practical.
Now, I'm in a school setting and the manual effort is usually minimal. (At least the speech activities I usually plan don't require me sweating!) My biggest messes are glue, paint, glitter and, sorry to say, boogers and drool. The last two are par for the course no matter the setting. I wear pants (including colored denim) and sweaters, skirts, lots of dresses (mostly because it's so HOT here a lot of the year) and pressed shirts. But I see lots of casual dressing; really casual dressing in both the schools I go into and online.
We're not doing ourselves any favors.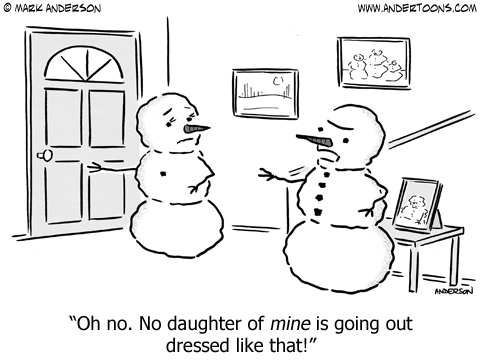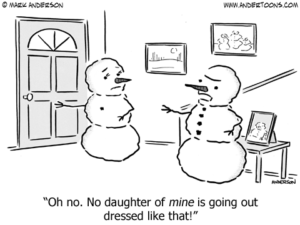 The American workforce, actually society as a whole, has become much more casually dressed. Jeans are seen everywhere. Athleisure trends seem to reign. It's tempting when you see kids all day and seldom interact with the parents, to join the laidback masses. I'm suggesting you stop.
Dr. Karen Pine studies the psychology of fashion (so cool, right?) and wrote Mind What You Wear
, an extremely quick and interesting read on how our clothes impact our mood and others' perceptions of us. We all know the influence a good outfit or lucky pair of shoes can have on our day. Simply putting on the cherished item causes us to walk more confidently, gives us a little swagger and, as a result, those we come into contact with treat us differently, and with more respect.
"When we signal to others that we care about ourselves, they are more likely to view us as somebody worth caring about." Dr. Karen Pine
Ripped or faded jeans, sweat pants with logos on the backside and graphic t-shirts inadvertently give off a "can't be bothered" or weekend vibe. Is that the message you're hoping to give?
And consider this, Dr. Pine suggests that the practice of wearing casual clothing to work can increase your stress levels. By never signaling to your mind/body that you are off the clock with a wardrobe change, you're actually setting yourself up for a 24/7 work mentality. Certainly not the message you ever intended to give yourself. Something to think about for those of us who blog or create products as a side job. Perhaps productivity would improve and stress decrease if you create in comfortable work clothes rather than pajamas.
"Dress how you want to be addressed." Bianca Frazier
Perhaps you're thinking you feel confident and comfortable in your dressed down outfit and, after all, isn't that one of the perks of a school environment? And though we've all heard the adage, "dress for the job you want, not the job you're in," school therapists don't typically have much room for upward mobility. Or do they?
So many school-based SLPs long to start their own private practice and to lose the unrealistic caseloads of their current settings. Or they'd like to add a private client of two simply to increase their paycheck a bit. Or pick up a few students during the summer. It helps to start looking like someone who already does this.
Administrators and teachers are often the ones making referrals for private services. You might have a great relationship with the teachers you work with, but you need to give them a professional impression if you want to be the person that jumps to mind when they're asked for recommendations of outside providers.
There are lots of SLPs looking great without breaking the bank that are full of great tips and inspiration for your work wardrobe. Katie at one_fab_lady uses fashion challenges to change it up. Her Instragram feed is filled with cheerful, professional attire that won't break the bank! Because she works in a school, she often shops on eBay or Ross for Less so nothing is too precious to chance damage. She's found that when you have a professional appearance, people really want to hear what you have to say.
Sparkly Speech Girl practices the idea of "dress to impress" every day and uses it as another way to gain respect of teachers and colleagues. On IEP or meeting days, she makes a point to dress up just a little bit more, whether that be a simple blazer or pretty accessories.
You can see what she's wearing on Instagram or check out her SLP fashion board on Pinterest!
Join my email list for access to my virtual therapy closet and weekly newsletter of freebies, tips, giveaways and early sale info!