Congratulations to Nikki who won a free copy of her own!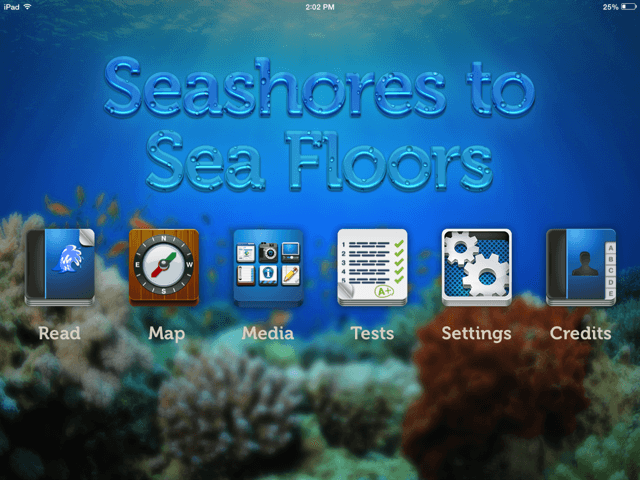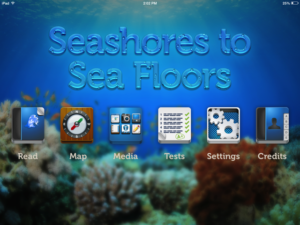 I know it seems hard to believe, but spring will be coming soon, the school year will begin winding down and some lucky souls will head to the beach. So why not incorporate an ocean theme into your activities?
Last year, I had the opportunity to review Pines to Vines from the Crack the Books series by Mobile Education Store. Now, I've been daydreaming about warm weather and the surf as I use Seashores to Sea Floors (version 1.1, $18.99). This series is awesome!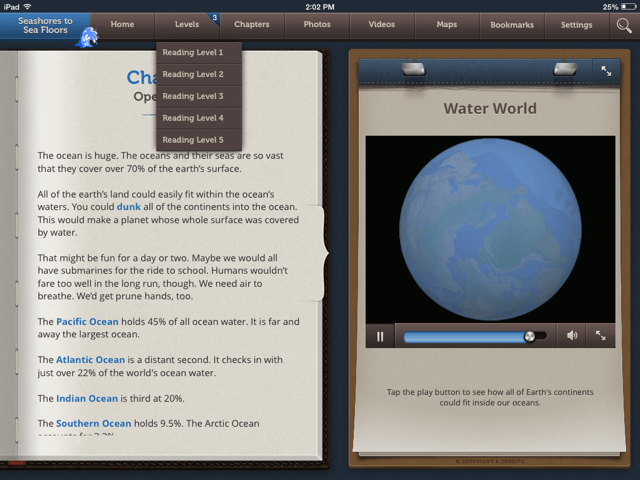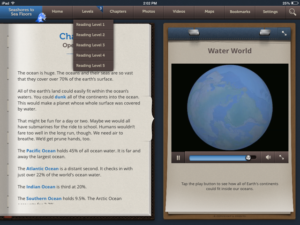 They are interactive text books with beautiful graphics which is cool enough, but it's the leveling that makes this series such a winner. Each app has leveled text and test available, so while the subject matter is for Gr. 3-6 the reading level is adjustable from Gr. 1-8. This means that while you might lower the reading difficulty for a struggling student, you can raise the level for a more advanced one, but the entire class will be looking at the same page and the same material. As an example, check out the same page for level 1, 3 and 5 below. Check the manual within the app for a full breakdown of reading levels by Lexile score and grade.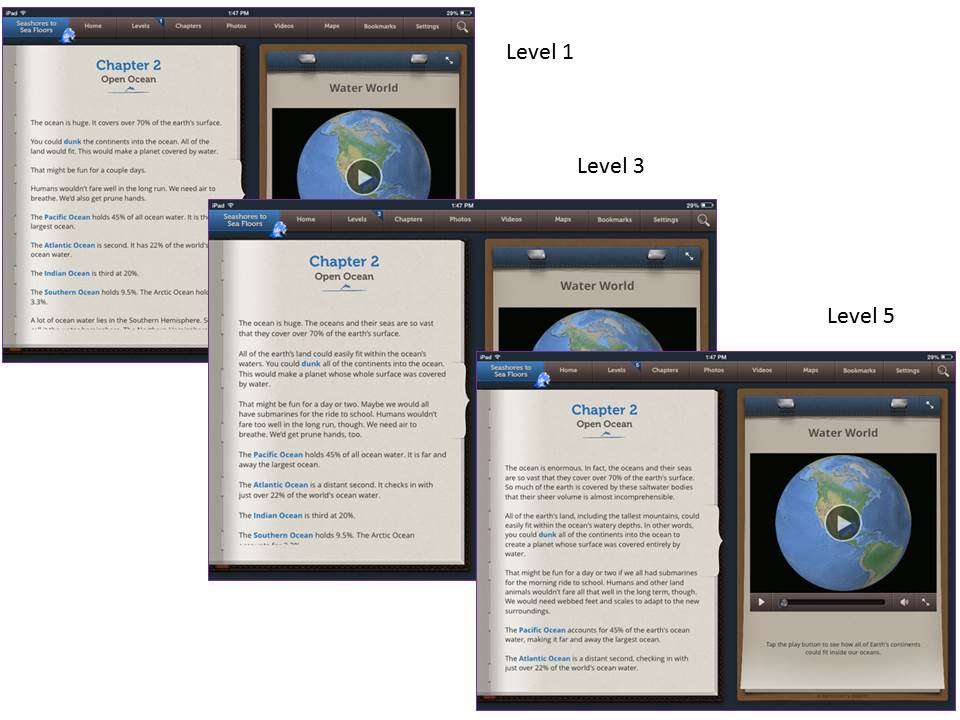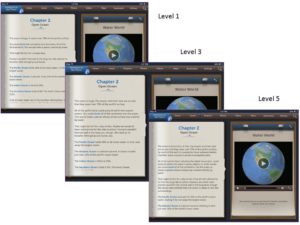 I think this is a great way to work on reading comprehension as well. For my students with grade level reading skills, but lower level comprehension, I might have them pre-read the information at a lower level with me so they are better equipped to handle the lesson presented in the classroom.
Tests are available for each chapter as well a final test and, again, these are leveled 1-5. There are even options to change text size, have test questions read aloud, have test image reinforcement or to use dictation when answering essays.
Information can be stored on multiple students including their settings/levels, bookmarks/highlights/notes they've made and tests.
Kids will love the beautiful pictures, maps and video clips that are scattered throughout the text. Galleries for photos, maps and video allow you to quickly refer back to something you've seen.
Teachers and therapists will also appreciate the lesson plans, study guides, activities, worksheets and standards available for each title.
The series currently has three science based titles with more on the way and I can't wait to see them roll out some social studies topics too!
While I was given a copy for review by the developer, all opinions expressed here are my own and I have a copy to giveaway! For a chance to win, leave a comment letting us know your favorite beach. One winner will be chosen at random. You have until midnight EST on March 21, 2015 to enter. Good luck!