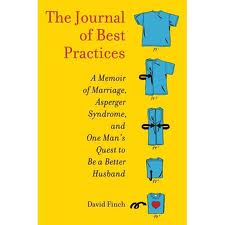 We are surrounded by communication. As SLPs, we know this instinctively. From the report you write, to the blog you read, to the greeting in the hallway, we are constantly bombarded with communicative intents. And as SLPs we are well aware of the "misses" and potential successes constantly presented to us throughout the course of the day.
I was intrigued to see The Journal of Best Practices: A Memoir of Marriage, Asperger Syndrome, and One Man's Quest to Be a Better Husband
at the beginning of this year and have it kick off my 2012 reading. "Best Practices" is the memoir of David Finch, the courtship of him and his wife, his diagnosis of Asperger syndrome, and the impact it had on his new marriage. His wife, Kristen, is an SLP and was the first to suspect a missed diagnosis and advocate for answers.
The book was quite poignant. Post diagnosis, David clearly moves into "fix-it" mode although Kristen never viewed him as a project. He maintains enthusiasm for goal setting and data collection while she remains firmly based in the present day. I valued this point of view because as therapists we are constantly looking ahead and making plans and I see the wisdom of putting that forward thinking on hold when it comes to our own personal relationships so we can fully appreciate the here and now.
David categorizes "Best Practices" as a memoir. I read it as a classic love story. In playing the role of sensitive and attentive spouse, David occupied the position of the flawed romantic hero. He's eager to be the person that he believes his beloved wishes for and deserves, not realizing that his imperfections and humanity are what ultimately won her over. I was touched as this couple came together, ached as they drifted apart and cheered when they seemed to find their way back. I was struck by how unimportant words often seemed and how monumentally important listening and empathy are to communication.
I also couldn't help but wonder at the other side of the story. Kristen attended Eastern Illinois University for both undergraduate and graduate work and then worked as an SLP in a specialized autism program through the schools. She's also had experience at a pediatric clinic and, most recently, a private practice.
Activity Tailor: David seems to think he "covered" well for years. Did you have any inkling during your studies or work experience that there had been a missed diagnosis?
Kristen Finch: He covered well his entire life. One of his strengths is his ability to observe people and take on their characteristics in order to "fit in" to any situation. He could take on these characters for long enough periods of time to get by (i.e., business-guy, party-guy) . During my studies, no. We were good friends at that point, but I didn't ever see any red flags that would've made me consider any diagnosis. He was my quirky friend. After we had been dating and then living together and married, it became much more difficult for him to mask what was going on inside his head.
AT: As SLPs, we often push for an early diagnosis. Do you ever wish David had been diagnosed earlier? What kind of impact do you think this would have had on his/your lives?
KF: That's an interesting question. I believe things happen when they're meant to happen, and things have worked out well since Dave received his diagnosis. He had 30 years of personal coping strategies enabling his success up to that point, and was in a place where he truly accepted this about himself. In his case, I'm not sure I would change a thing. BUT. Early diagnosis IS helpful for the majority of this population. It's helpful for families and educators to know how these children operate, how they need to be taught things, how to deal with behaviors, how to help them in social situations. In a lot of cases, early intervention is key.
AT: Between your work and home life, do you feel like you can ever get away from being an SLP?
KF: Not at all. What's interesting about the book is that, for me, it was about working on our marriage. The only way my title of Speech Pathologist came into play was that I had knowledge of autism spectrum disorders which gave me insight into how Dave's mind works. I was never his therapist, nor did I ever feel like I was.
AT: Do you tell clients/parents about your husband's diagnosis? Are they surprised? Relieved?
KF: I told parents when it was appropriate. I have had parents devastated over a recent diagnosis and shared with them that the outcome doesn't have to be gloom and doom. It is possible for someone to receive this diagnosis and be very successful. They are often both surprised and relieved. There still is this stigma of what a diagnosis of autism spectrum disorder looks like. I am always very careful to point out that the key word in autism spectrum disorder is spectrum.
AT: How has living with David changed the expectations you have for your clients?
KF: I don't think it has. My clients are all individuals, and, as they say, if you've met one person on the spectrum, you've met one person on the spectrum. Everyone has their own strengths.
Kristen, many thanks for sharing with us!
Please take a moment to leave a comment for Kristen or send this to a friend. And if you haven't already subscribed, be sure to sign up. Subscribers will receive a password for the speech diplomas and the next free subscriber download will be available in early March!