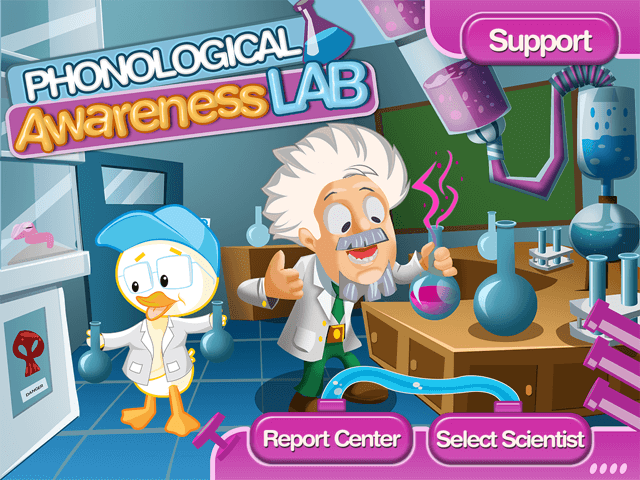 ***Deb Culbertson was the winner! 11/13/2014***
You know what I'm already thankful for this November? Apps. Not only have I had the chance to review and enjoy two goodies from Mobile Education Store, but I've also had an absolute ball trying out the latest from Smarty Ears—Phonological Awareness Lab.
It caught my eye for two reasons. The first is the mad scientist (I love a good mad scientist). The second is that more and more often I find myself needing to support the classroom teacher's lessons on phonemic awareness. Too frequently my kiddos just don't get it, or at least they aren't getting it at the speed the rest of the class is. (And that's just the language issue kiddos. Those with artic issues that are also confusing themselves as they struggle to match their sound to letters….let's just say, if I get the long side of the wishbone I'm tempted to use it on that bunch!)
Put on your lab coats and let's take a quick look around.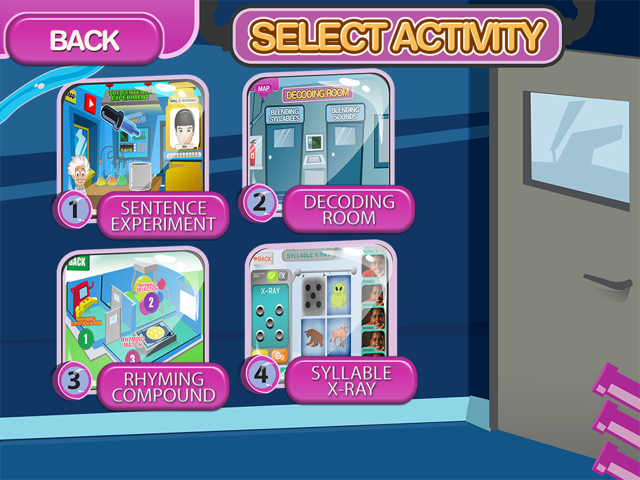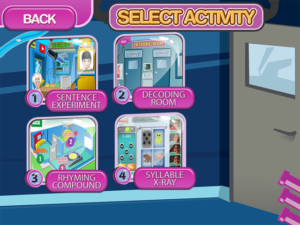 As always, Smarty Ears apps allow you to easily add a player (including adding a photo or avatar) or you can import players from the therapy report center (it's like your own database of players for all your Smarty Ears apps and can be a huge time saver). Now we choose our activity.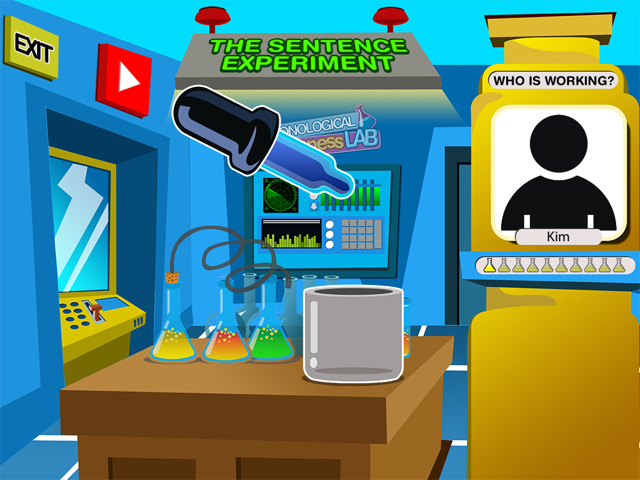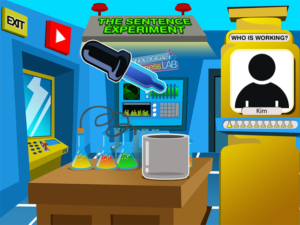 Sentence Experiment: You listen to a sentence and touch the dropper for each WORD you hear. The dropper provides reinforcement by filling the beaker below. Once you're done, touch the beaker to see if you are correct. Audio reinforcement is provided for in/correct answers and little golden beakers keep track of your right answers. Hit the play button (red arrow) to hear the sentence again.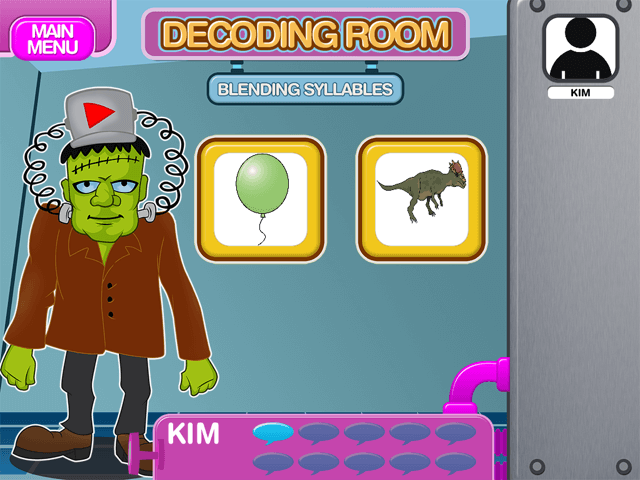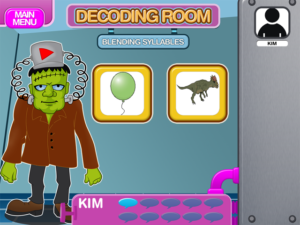 Decoding Room: Here you have two options, blending syllables or blending sounds. For this activity, there is a Frankenstein type monster that says either the syllables or sounds. There are three pictured choices (also read aloud) and you select the picture that matches.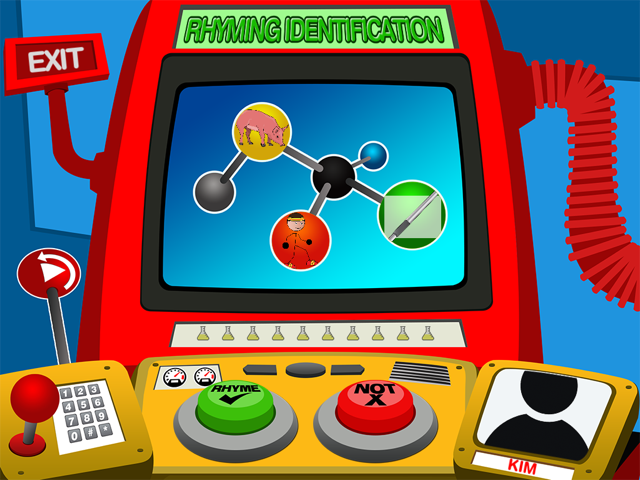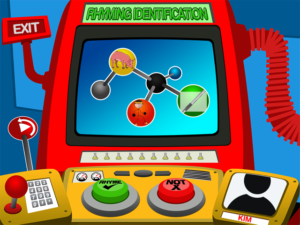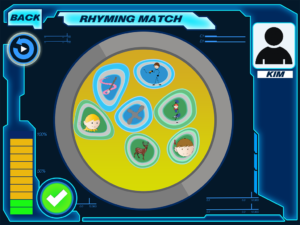 Rhyming Compound: There are three levels in this section. The first is Rhyming Identification which reads three words and you choose whether they all rhyme or don't. Rhyming Selection reads a word and asks you to find a rhyming match from a selection of four (all read aloud). Finally, Rhyming Match reads seven words aloud (also pictured) and has the child select the four that rhyme.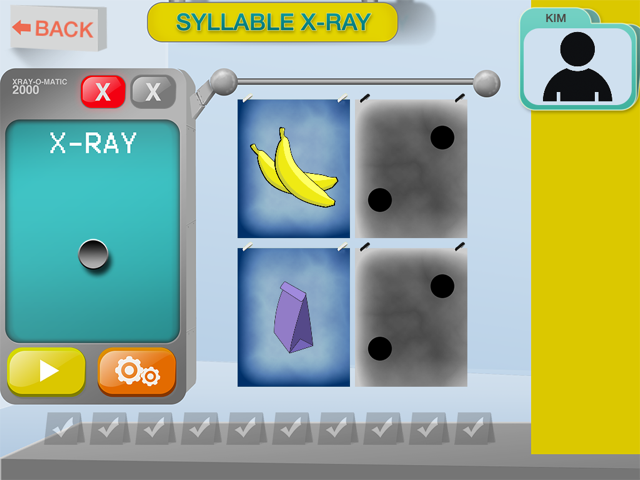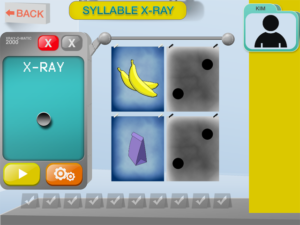 Syllable X-Ray: In this activity you are trying to find a word with number of syllables indicated on the "x-ray." You have the option in settings to have 2-4 answer choices with anywhere from 1-5 syllables (you can choose 2 or more syllable options). I liked that when you chose an answer, the picture would "flip" and show you it's x-ray so you could see if it matched.
Exiting any activity allows you to go to the Report Center and see your score(s) for the day as well as a graph of your overall accuracies. Sharing options are provided.
Like many of the Smarty Ears apps, there are a lot of options in settings to really breakdown the skill which I appreciate. They also do a superb job of reporting and sharing stats. I found this particular app a little tricky to navigate sometimes. If I found myself in an activity and needing to adjust to another it seemed to sometimes take a couple more steps than needed to get back to where I first started. Also, I wished there was the option to "skip" a question for some activities.
This review is based on version 1.0 available for $14.99. I was given a free copy for review, but the opinions expressed here are strictly my own.
I have a free copy to give away to a lucky winner! To enter please leave a comment below letting us know which phonemic awareness skill you seem to work on most often (right now I'm on a rhyming streak). You have until midnight EST on Wednesday November 12, 2014 to enter and I'll draw the winner at random. Good luck!