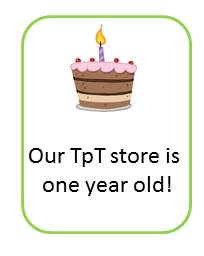 My TpT store opened a year ago. A big thank you to everyone who has followed me, made purchases and left feedback! I am offering 20% off all products this weekend, so take a moment to browse. It's a great opportunity to pick up items now that you have a better idea of your caseload and needs. See why customers have said:
"Just what I needed to adapt my game boards for articulation goals! I bought both your sets! Excellent and so useful!" (Move Ahead Decks for F, V, SH, CH and J)
"I used this activity in a center for kids to practice multiple meaning words. I love how the words and sentences are matching so I can easily check to see if the answers are correct (the students did not figure out this). So many words, that I used it in a center four times without repeating any of the words. Great!" (Multiple Meaning Snowflakes)
"I love this series! Love how the actions incorporate target sounds! Great for engaged learning and generalization." (Action Articulation for Z, L, G)
"LOVE THIS! It is so easy to get a high amount of reps with this game! Thank you!" (Articulation Jackpot for R)
"The rapid pace of this game helps facilitate carryover. Using this with 4th-8th grades! I also like that this game doesn't use up color ink and is something that can be printed on colored card stock." (Rock, Paper, Scissor for R)
Sale prices last September 28-29, 2013.