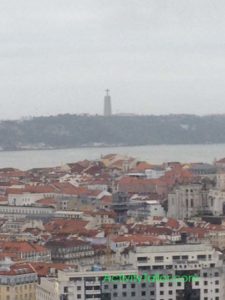 I've mentioned before my love of travel and I particularly relish the opportunity to travel to new countries when possible (admittedly, this happens with much less frequency than I'd like).
My husband and I just returned from a trip to Portugal. The country was beautiful. The people were overwhelmingly generous and welcoming, and everyone spoke English and Portuguese. This is where my guilt kicks in.
So often when I've traveled, I'm amazed at the ability of others (my experience has been almost exclusively with Europeans), to switch seamlessly from their native language into English–or another language.
Many years ago, we had the opportunity to visit Barcelona and we decide to join a cava tasting in our hotel. A few other couples were there as well and as we entered, the instructor asked where we were from. He then proceeded to translate his lesson from Catalan (the language of Barcelona), to Spanish, to French and to English. The cava was divine, but it was his facility with language that really stuck with me.
I took Spanish in high school and to fill my college requirement, and I was ok at it, but far from fluent. When I try to pick up a few words, let's say in Portuguese, I'm pretty average in my abilities. I can hear the sound differences, but they aren't necessarily easier for me to mimic or remember.
Shouldn't I be more competent than this?
I've even tried Rosetta Stone which is a great experience in and of itself. My favorite part was completing all the introductory modules and getting to the summary section. Up until then the set-up is similar to ROW/EOW testing–you choose from an array or name a pictured vocabulary word, but the summary section switches to a first person perspective. In mine, I was "walking" down a pretty path when I suddenly realized I was "approaching" a small group of people. I could feel my anxiety shoot up.
"Ack! They're going to talk to me!" If the lesson had allowed me to bow my head and turn around, I certainly would have!
I have a dream that, someday, I'll be bilingual and Spanish would be my first choice. And you?
I'm curious, who is bilingual and do you use this as part of your clinical practice? Do you harbor a secret desire to learn another language like I do, and if so, which one?