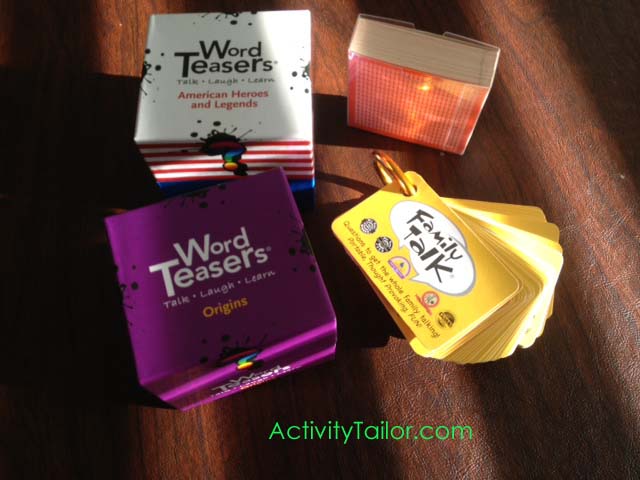 I live with talkers, though my children are both young teens so I gather this could change any day. I hear about the school day, friends, homework, funny anecdotes when I pick them up at school and I love being a part of their life in this way.
But each night at dinner, we have a tradition to use a conversation starter or two, and have for years. We've used Table Topics and Family Talk and are currently working through Word Teasers boxes. The conversations started from these prompts are great fun–much less about the day to day and more in depth. It's fun to reminisce about "what's your first memory?" Listen to fears, "What challenge (or kind of challenge) are you least likely to try?" And hear dreams, "If you could create an invention, what would it be?"
Recently, I sent a couple of starters from "Multiple Choice Articulation" practice home with a student. This child is working on carryover of /r/ and comes from a large family. What a great way to gain the spotlight! I asked him to read the /r/ question aloud at dinner which starts a conversation that is chock full of his target sound due to the topic. I'm also able to give some guidance to his mom/dad in regards to modeling and giving feedback. Since the topic is "speech homework," he's also getting that little reminder to attend to his sound. And the parents appreciate the ease of completing homework this way!
You can see Multiple Choice Articulation here. It's a fun app for the therapy room, too! If you are using it on the iPad (as opposed to sending a question home on an index card), it has an option to listen to an answer as well–great for assisting with reasoning skills. You can also have the kids summarize the response for "extra" sound practice!
Anyone else use conversation starters at home or with students? Let me know your favorite!
If you'd like some open ended questions for your own table or higher level language clients, you can download twenty free cards here.