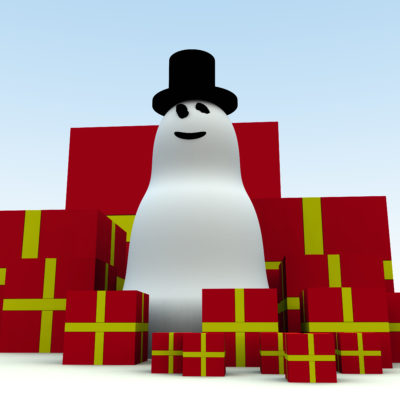 Yipee! It's winter break! I really look forward to this time of year–I enjoy buying presents, meeting friends for holiday coffee and especially getting together with family.
And for me, it's also a time for some surreptitious study of trends and potential therapy materials. I ask my students what they have on their holiday wish lists (and I write it down). I find out what nieces and nephews are in to, make my purchases and then play with them once the packages are unwrapped. I make note of items or trends on the year-end "best of" lists.
So here's your chance, a couple of weeks of fun in the name of educational research. You'll be back in session feeling kid cool and hip. (It's Santa magic–you have to believe it for it to work)
On my list:
Movies:
Hugo: Though this is extremely well-reviewed and hyped it was a disappointment to my household.
Puss in Boots: Still in theaters probably because of those ginormous kitty eyes. Light, cute, fun and watchable.
The Muppets: I grew up in the 80s, so I was quite keen to return to the Muppet studio. Not the best ever, but enjoyable nostalgia.
War Horse: Can't wait to see this (although not one child I spoke to, or asked about it, had any interest at all)
Chipwrecked: I must admit I don't love the Chipmunks, but nearly every child I asked had this on their top movies to see….this one will take some overpriced snacks to make it worth my while.
Toys:
Where is Sock Monkey? I bought this for my nephew at the recommendation of @dibsondebs. I may need to sit on my hands to allow him to rip open the wrap. I can't wait to play this (and then buy my own).
Angry Birds Knock on Wood board game: Really any Angry Bird item is likely to be popular. I'm wondering if this could be adapted for therapy.
Lego Ninjagos: I've got a couple little boys really into these battling Legoes. I need to try it out and I'm sure my son will oblige.
Sing A ma Jig (Duets): Saw these is a magazine and they look like they have so much potential. Still want to try them out.
Fisher Price Little People Zoo Talkers: I'm a big fan of Fisher Price and Little People anyway, but this looks so awesome to me. And it's portable (handle and everything) which is always a help to me.
I am T-Pain Mic: This looks hysterical. It's supposed to be popular. I'm hoping to get some kiddo to bring one in to try out. Records, plays back, adds a beat. Must be fun.
TV:
Shake It Up: My niece is a fan of this and now that the clothes are at Target you know it's a big deal. I'll join her for an episode and see what it's about.
Adventure Time: I keep hearing about this Cartoon Network show and need to find out what's going on there.
Happy Holidays everyone! Let me know if you come across any great finds under the tree!
Please take a moment to read my article, "Articulation Games from a Drill Sergeant," in the current edition of Advance for Speech-Language Pathologists and Audiologists. I think a high number of trials/session is critical to moving kids through therapy and am always on the lookout for fun ways to make this happen.
And don't forget my holiday giveaway. Take just a few seconds to subscribe and you'll be automatically entered in a drawing for a $25 iTunes gift card. And while I believe in the concept of sharing under most circumstances, I NEVER share email addresses. You must subscribe by December 22, 2011 midnight EST and have a mailing address within the US to enter. The winner will be notified on December 23, 2011.