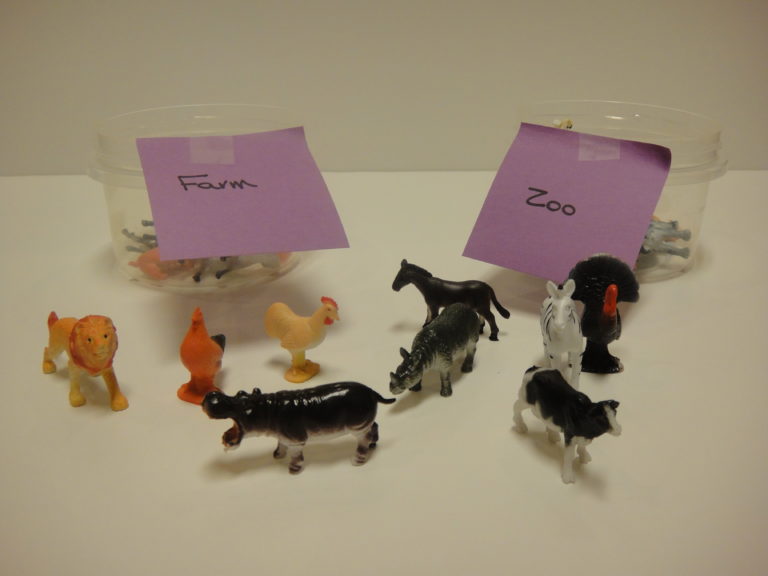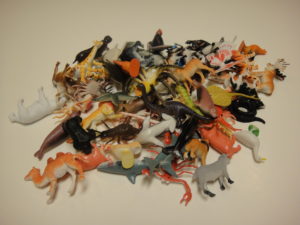 I love animals, especially dogs, and my household has almost always housed one. Currently, we have two adorable terriers. And I love the whole idea of classroom pets and always appreciate the teacher that is willing to deal with all that entails—the distraction, the weekend/vacation care, the odor. Though I must admit, while we did our fair share of hosting the class pets while my children were in lower school, it isn't something I miss. (In my defense, two terriers v. hamsters/gerbils/rabbits/rodent-like anything is quite anxiety provoking and I was really reluctant to be responsible for an untimely demise.)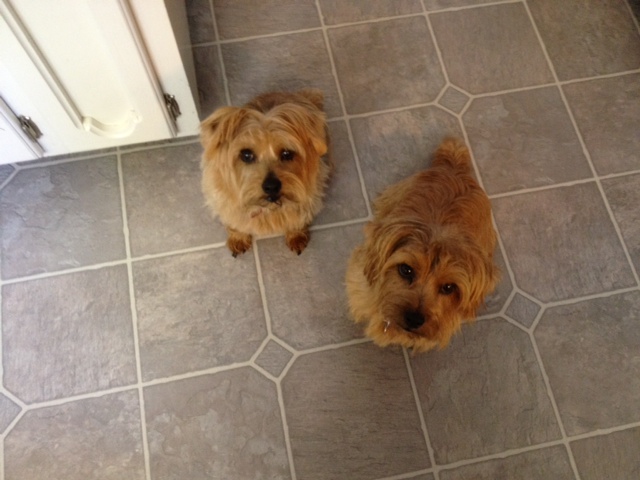 Much lower maintenance—No food! No vet bills!—is housing a whole herd of plastic animals. My discount party store sells bags of them (reptile, farm, jungle, sea) as well as having bins of loose ones (various dog breeds, insects, dinosaurs). I've amassed quite a collection! (Click here for a product sample) I've been able to find smaller bags (12 animals, no duplicates) as well as larger packs (48 animals) that offer 3-4 duplicates of each which is practical if you tend to work with larger groups and gives you more game options. If you really, really need a specific animal due to a particular phoneme or the child's interest you can find exotic and beautifully made ones by Papo or Schleich at toy stores. I covet them, but they are too expensive to be practical en masse.
These little guys can be used for so many different therapy games and I've listed some of my favorites below. By tweaking the animals you use, you can target basic vocabulary (i.e. farm animals), categorization, prepositions or speech sound disorders through a variety of fun activities.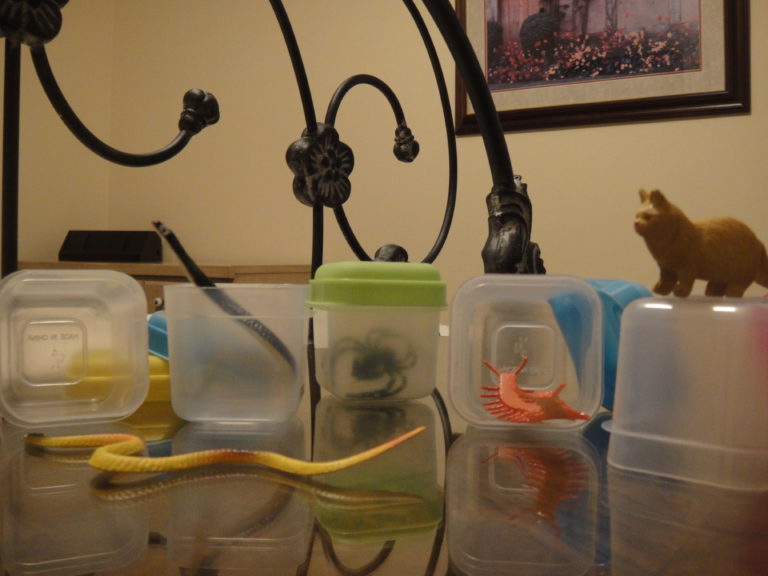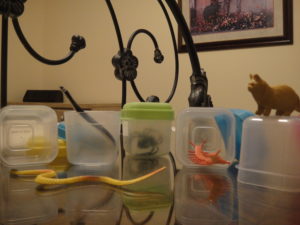 Scary boxes: You can read my original post here, but these little "mystery" boxes are always a hit with preschoolers. You can always skip the "scary" aspect and just use the boxes to increase anticipation before labeling the hidden creature.
Sand box: I love hiding little animals in a sand/rice/bean box (click here to see a "Corn box"). I ordered a large bag of moon type sand years ago which I particularly like. It isn't nearly as messy and it's so fun to squish!
Climate change: This activity includes "desert" sand, "snow" shaving cream, "ocean" water and carpet "grass". A full explanation is available here.


Sorting

: Put a pile of animals on the floor (depending on the child, 10-20 is appropriate) and sort! You can divide animals by: where they live, how many legs they have, color, size, etc. It might be helpful to have small containers with an index card label to hold sorted animals. Ideally, the label would include an appropriate scene with the written word.

Matching

: You might be pulling animals out of the sand and matching them with another (i.e. two horses, two chickens, three goats) or you might create a bingo board or strip and match objects to pictures.

Prepositions

: You can work on some early prepositions such as "on", "off", "in", "out", "under" and others by having the animals play hide 'n seek. "Let's hide the shark under the bucket. Can the whale find him? Where is he? Oh, he is under the bucket!" [wpvideo McXfmojs]

Sliding animals

: Kids seem to love slide and ramps. Whether you have a real toddler slide or create one for your table top with a propped piece of cardboard, your preschool students will enjoy letting these little guys whiz down over and over again. "Who should slide first? Ok, hippo will go. Tell him, 'Go, hippo!'"
For a list organized by articulation target: Plastic Animal Word Lists.
For ideas on incorporating animals into Lesson Pix creations click here.