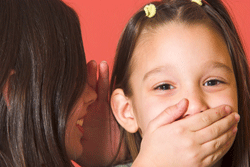 This is the time of year when I start getting questions for parents, "should I send my child to Kindergarten?" Typically it's coming from a parent whose child has a birthday within a couple months of the cut-off age and isn't necessarily a student of mine. Regardless of whether there's delayed speech or language, my answer is nearly always an emphatic "no!"

Parents, even teachers, are often so caught up in readiness skills. Do they know colors and shapes? Can they follow directions and show some patience? But even for those students who clearly are capable of a kindergarten curriculum, if they have a birthday that has them younger than the majority of their classmates, I recommend waiting a year.
It isn't easy for parents to hear, especially if it's the youngest child and mom is really looking forward to having everyone off at school. But the decision is one that has implications for a child's entire academic career, not just the kindergarten year and should be based more on social issues rather than academic ability.
It's an unfortunate fact, though hard to believe when you look at your 5 year old, that at some point they will be offered a cigarette, alcohol or drugs. For me, I'd rather my child be older rather than the youngest classmate when that happens.
Same with driving. I may have a rule, no driving with a peer until you have a license yourself, but it will be easier to enforce and they won't feel as left out if they aren't a year behind in getting their license.
Dating? I know my husband wants my daughter asked to the prom by a classmate that's the same age (or younger, or, frankly not at all) rather than older.
I've seen seniors that sailed through high school with high marks, that were still very uncertain about heading to college and just because they were a typical 17 year old and not quite ready to leave home.
And back to academics, how many times have you seen a child ready for kindergarten that falters later? Not because they're struggling with the coursework on an intellectual level, but because they're simply a year younger? I see students at a rigorous private school and I'll find myself explaining to both teachers and parents that while their child is struggling in the classroom, on testing everything looks rosy because they are being judged against same aged peers.
Many students need classroom support, but it's not unusual for those same children to faulter with their self-esteem when they do. Is it worth setting up a child with a developmentally more advanced school career than their age would suggest just because we think they can handle Kindergarten right now?
Concerned that waiting that extra year will have your child bored and twiddling their thimbs? Given the choice, I'd much prefer to work on supplementing a child that's sailing through class work and needs an additional challenge.
I have two children, both with fall birthdays and both are among the oldest in their class–I practice what I preach! But it's my opinion. I'd love to hear yours whether you agree or (politely please!) dissent.