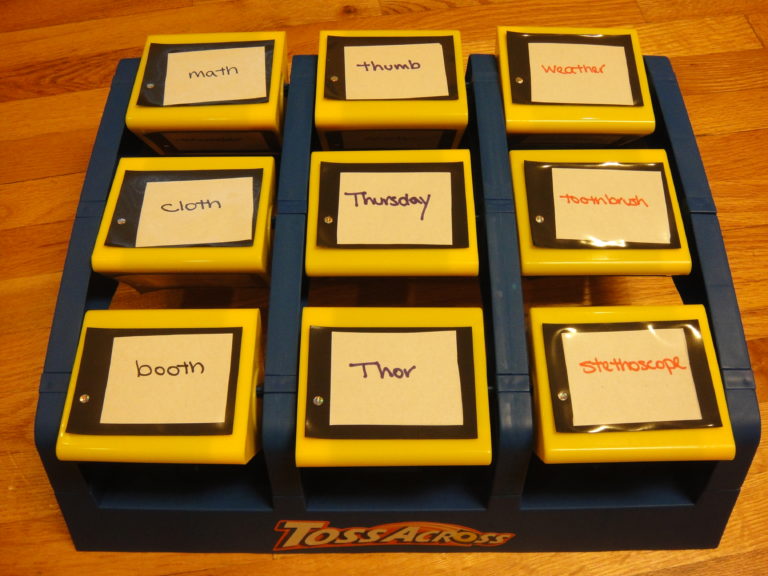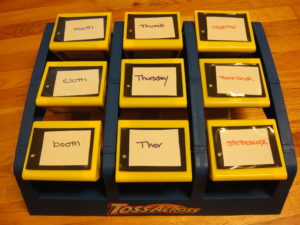 Do you remember the game "Toss Across" that was popular in the '70s? There was a large, square board with nine rotating targets, each one containing an X and an O. On your turn, you would toss a beanbag in the hopes of getting three in a row. It was, essentially, tic-tac-toe with beanbags.
The game is still around, though I doubt it gets as much action these days given all that it competes against. But, it's a great addition to the therapy room, classroom, or even for home activities. A new one runs about $20 on Amazon. Like many toys it requires some assembly, but it goes together easily and—great news if you struggling with lining up large stickers—you can leave off the stickers entirely!
Here's what I do:
Materials:
Toss Across
Trading Card Protector Sleeves
(27)
Glue or double stick tape
Paper, index cards or old business cards with blank backs
To Assemble:
Make the Toss Across base with revolving targets. Ignore stickers (unless you really want to put on the side labels).
Attach a trading card sleeve to each side of the revolving target (3 for each). Make sure they all open the same way to spare yourself aggravation later! The plastic makes adhesion very easy, glue or double sided tape will work fine.
Slide a card with your targets into each sleeve. What you are inserting will depend on what you plan to accomplish.
To Play:
Articulation: Come up with a target list of 27 words. Write them on the slips of paper in three different colors (i.e. write 9 in red, 9 in blue, 9 in green) and put one of each color on each revolving target. Have kiddos throw beanbags, trying to get three of the same color in a row. You can have them read all nine words after every throw (or every couple of throws) or just read the one(s) that change on their turn.
Phonemic Awareness: I have a child who hates letter/sound association tasks. I'm planning to put letters in each sleeve, let her throw the beanbag and then "read" all nine sounds. (i.e. /p, b, t, d, etc./) I think standing up and throwing something will enliven what can be a tedious, difficult activity. It will also let her feel like she's in control, to some degree, since her actions are changing the sounds to be read.
Early Reading: Have revolving consonants on the first and third columns and keep the center column one vowel (i.e. have "a" on every side). Have the child throw a couple beanbags, then read the rows across. I've written out a possibility below; I'm sure with a bit of trial and error you can come up with others. Or set it up so you have a combination of real and nonsense words.
| | | | |
| --- | --- | --- | --- |
| c-p-m | a | t-d-n | cat, cad, can, pat, pad, pan, mat, mad, man |
| r-p-b | u | n-g-t | run, rug, rut, pun, pug, put, bun, bug, but |
| p-b-w | i | t-n-g | pit, pin, pig, bit, bin, big, wit, win, wig |
Math: Yes, I work with language, but I'm a closet math lover. I think this would be so fabulous for early addition practice. Insert numbers 0-9 throughout the sleeves. Throw the beanbags, jot down the numbers on a 3×3 grid and solve by adding all the numbers across, then all the numbers down.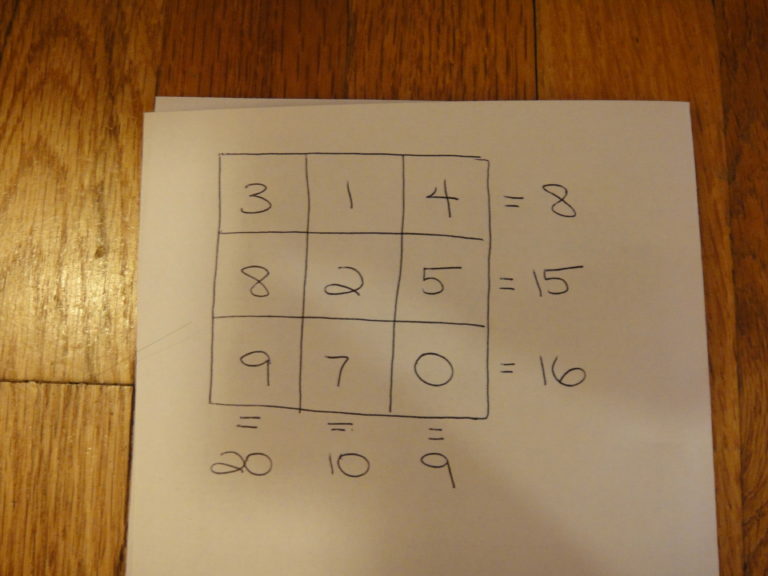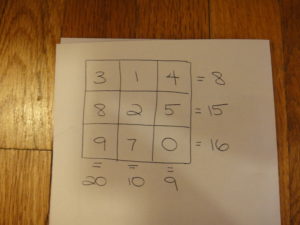 I feel like the possibilities are endless! Please toss out ideas that you come up with below!
Next week, subscribers will receive a new, free download. Make sure you sign up! (I promise, I don't share email addresses)