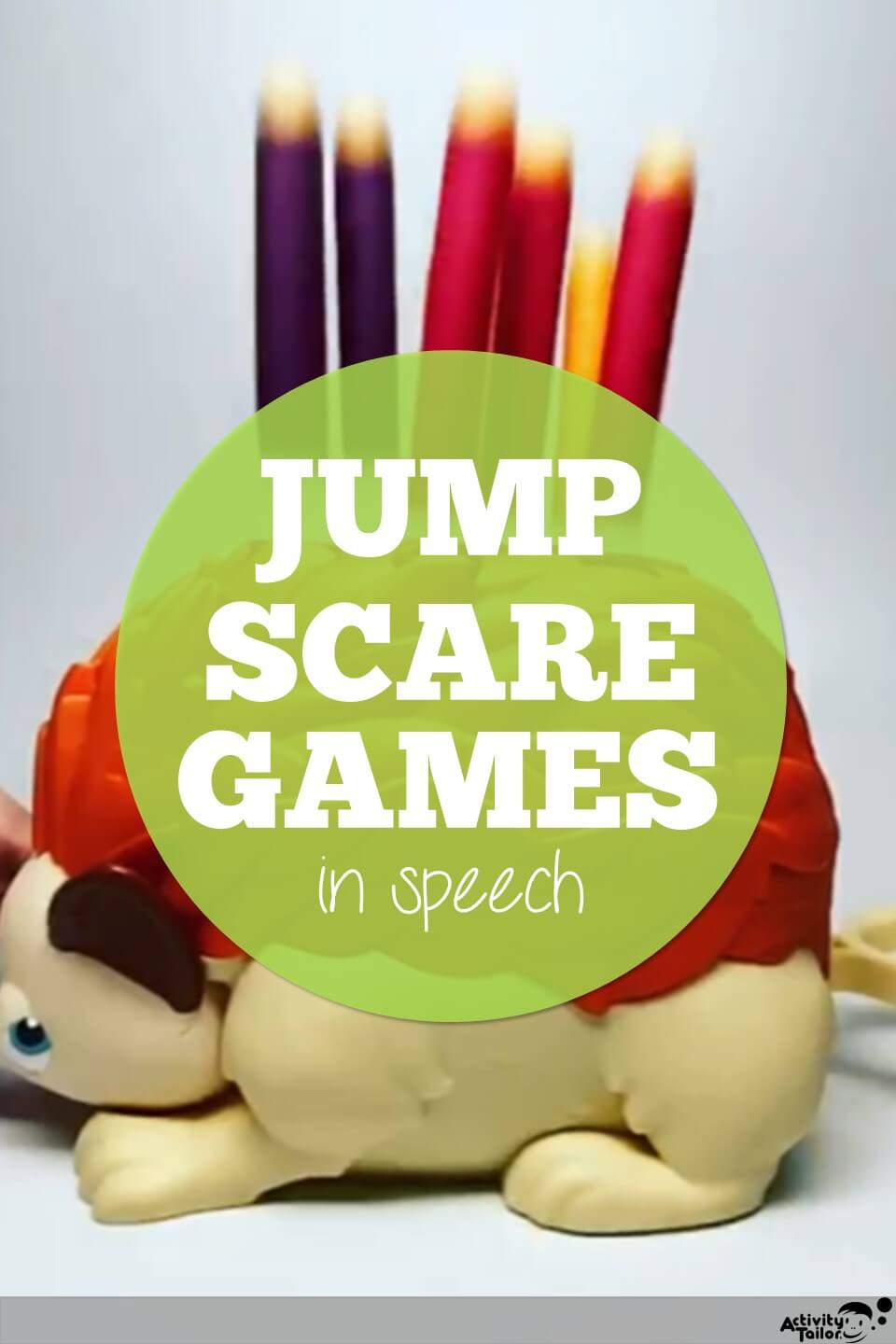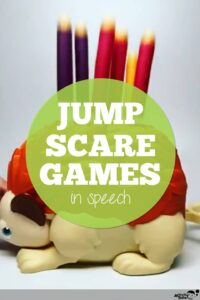 Looking for a way to get your students really engaged? Try jump scares game in speech! If you're a fan of horror films, you know that the potential for a jump scare is going to keep you on the edge of your seat throughout the film and give you a little boost of adrenaline every time one arrives. We can set up a similar, but less scary, situation in our therapy rooms.
Using Jump Scare Games in Speech
There is a large assortment of jump scare games for kids available and many tie in easily with popular school themes, but truly they're fun year-round.
Use these for open ended reinforcement for any goal, but they tend to lend themselves particularly well to articulation drills.
Popular Jump Scare Games
The following may contain Amazon affiliate links. The price you pay is the same whether you use the link or not.
Pop-up Pirate and Pop T. Rex work the same way. There is a barrel which you push the character down into and then the child slides swords in the sides until he pops out. Not everyone is a fan of the stabbing aspect, but if a child ever asks me about it I tell them the swords aren't sharp (they aren't) and it finally gets so annoying/crowded/tickly (take your pick), that he has to jump out. Have children earn a sword for every few trials. Pop-up Pirate is particularly fun during September when SLPs tend to focus on pirate themes (Talk Like a Pirate Day is 9/19). Dinosaurs are always a hit.
Looking for more pirate articulation fun? Try Roll a Pirate Name.
Shark Dentist Focus on ocean themes in July and August and you'll have a natural transition to pirates in September! This game works a little differently. The shark has a wide-open mouth and players take turns pushing down teeth until his jaws snap shut. It doesn't hurt, but because it actually touches you it can be disconcerting to some children. Use a pencil, chopstick or a toy fish to push down the teeth if you want to avoid finger snaps.
Shark Bite Here's another variation of snapping. For this game the mouth is wide open and sea creatures are inserted into the mouth as part of the set-up (be sure to use each one of these for trials too!). Players use a fishing pole to pull the creatures out until the shark snaps shut. Although this version doesn't snap on fingers, there is quite a bit more fine motor skill involved in fishing.
Looking to add to the theme? Try Shark Attack.
Crocodile Dentist is one of the classics. His big open mouth is filled with teeth players take turns pressing down (see Shark Dentist variation). Again, some littles are too scared to have the jaws snap on them so either select a different game or find a tool to press the teeth down with (in my room we use a pizza slice). Always open-ended fun, but because it involves teeth, it's a natural choice for "th" practice (mouth, teeth, tooth).
Porcupine Pop The bright minds at Hasbro repurposed nerf bullets as porcupine quills for this cuter than usual popping game. Load the nine quills (be sure to use set-up for trials!) and then roll the die to see how many times to push his sweet nose (trials again!). Most of my littles find this version to be the least scary. The sweet woodland creature fits perfectly into fall themes but could also be used as a broader winter unit of The Mitten.
Banana Blast Monkeys are always fun and tie into Curious George, Grumpy Monkey and Five Little Monkeys and don't forget zoo themes! In this game, the bananas are inserted into the tree (a trial for each, please!) and then the monkey is pushed down into the top. As you remove bananas, you run the risk of him blasting into the air! This game rewards catching the monkey if you can. I find this works better in 1:1 therapy rather and skip that rule for groups.
Beware of the Bear Push the bear down into the tree trunk where he'll sleep until too many pokes to the tummy wake him up! You can target words like "poke" and "snack" for final "k" easily during your turns or use a word list. A perfect tie into a wide variety of bear books or woodland creatures. Again, use as part of The Mitten until with porcupine above!
Pop the Pig Moving to cooking and restaurant themes, rather than farm, is Pop the Pig. Keep feeding this surprising chef hamburgers until he finally pops.
Jumping Jack This game is very similar to Banana Blast, but this time we have a bunny and carrots. It's an adorable spring themed game and perfect for April when your ideas for therapy might be getting thin. A natural choice for your "R" students since it includes: rabbit, carrot, garden.
Pugalicious As mom to a senior pug rescue, I couldnt resist this one! Put the treats on Puggy's nose, press the paw and watch her catch them in her mouth. Love the lolling tongue! Your bound to have dog lovers on your caseload so keep this one available year round.
Want a no-mess, print and go craft for spring? Try Bunny Articulation.
Don't Wake Daddy Try and sneak down to the kitchen for a midnight snack without making too much noise causing Daddy to jump out of bed! This character is slightly creepy, and the board game is more advanced so this is best for slightly older students.
Greedy Granny Fairly weird and definitely creepy, Granny sleeps in her chair while you try and steal her snacks. Grab the wrong one and she'll jump up and lose her teeth! (Yes, you read that right.) Not for everyone, but could be a fun choice for older students.