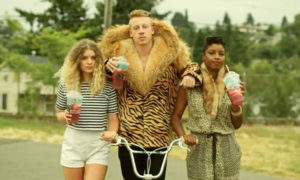 Despite hearing Macklemore's refrain constantly (and finding the video hysterical), I'm not a Goodwill fan. Actually, I love the donating to Goodwill aspect and that, at least my local branch, employs several disabled adults. It's the rooting through stuff that kind of skeezes me out. And I have similar feelings about many thrift shops. I want to secretly slip on forensic grade gloves when I pick through to see if all the pieces are there. I want to return home and run my purchases through a decontamination chamber. I want to shower in peroxide. Ugh.
But I work on my own, so I'm in a tough budget situation. There is no "I'll expense this one (or fill out a purchase order)." There is no "sharing" toys/games across a department. I'm well aware that if your clients are frequently private pay, they want reassurance that you are successful. Not diamond studs and a Mercedes, but neat, clean and modern games (**quick note: classics will always be appreciated—Candy Land, Chutes & Ladders, Mr. Potato Head, etc. I'm just suggesting you have a couple concessions to trends whether it be Ninjago sticks or Cars themed Headbanz or modern classics like the Cranium line).
So how can you make this work? Within my posts, I often provide a link back to Amazon so you can make an easy purchase or view exactly what it is I'm referring to, but here are some of my tricks for scoring good deals on prices.
Target and Walmart

: Of course both of these huge retailers carry vast amounts of toys and games at decent retail prices, but the clearance shelves! I've picked up any number of games from my wish list for 50% off just by swinging by and seeing what's there on a typical errand run, including

S'match

, a replacement

Chutes and Ladders

and

Guess Who?

Kohl's

: Again, this behemoth will periodically deeply discount items I already had my eye on. If you seem to be buying the "next size up Levi's" each month for a preteen boy like I am, you'll be receiving lots and lots of coupons and Kohl's bucks on a regular basis. I've picked up any number of items for next to nothing this way.

Tri-onimos

I actually got for "free."

Tuesday Morning

: I wasn't sure if this was a southern thing, but I took a look online and it looks like there are stores all over the place. Their items are always discounted heavily (ex. those cardboard "brick" block classroom sets which retail for $60 were at mine for under $30) and there are lots of small ticket items too. I recently picked up "Sneaky Rabbits" (look for the post within the next couple of weeks) for $6 when it runs close to $15 on Amazon.

Consignment stores

: OK, these seem on the surface like a thriftshop going by another name, and, I suppose they really are. However, I have much, much better luck in these situations. Consignment stores are usually pretty picky about the items they'll take—insisting all the pieces are intact and the overall look not beyond "gently worn." My favorite local store shrink-wraps items so pieces stay together and has everything well organized by age/type. Moms, another fabulous feature of consignment stores is if you bring your own gently worn items (whether it be toys or those practically new, but outgrown jeans I mention in #2) you can receive cash OR use your balance to make in-store purchases, typically at an additional 10% discount. These are great places to find Melissa & Doug items (I suppose because they wear so well).

Simpatico moms

: Develop a relationship with moms that really seem to "get" the educational point of toys and games whether it be the mom of a previous client or a neighbor. I was always happy to pass on toys I thought could be put to great use in our preschool program once my own children outgrew them. It's shocking to see the waste you can accumulate when little people have entered your home; feeling that you can "pass it on" can be a huge relief. And I was grateful when teachers were specific, "We are looking for beginning board games" or "We'd love to have more Duplo blocks for the building corner."
Now it's your turn. Let us know where you find great deals and how you extend those supply budgets! Please leave ideas below.
***Guess what?! Kohl's caught this post and gave me a code to share: TENFORBLOG will give you 10% off at Kohls.com and can be used in conjunction with other codes. Good through March 9, 2013.