IEP and IFSP– these might be acronyms you've heard before or they may sound like you need to start singing the ABCs. Either way, lean in and let me teach you all you need to know about these terms and what they mean for you and your child.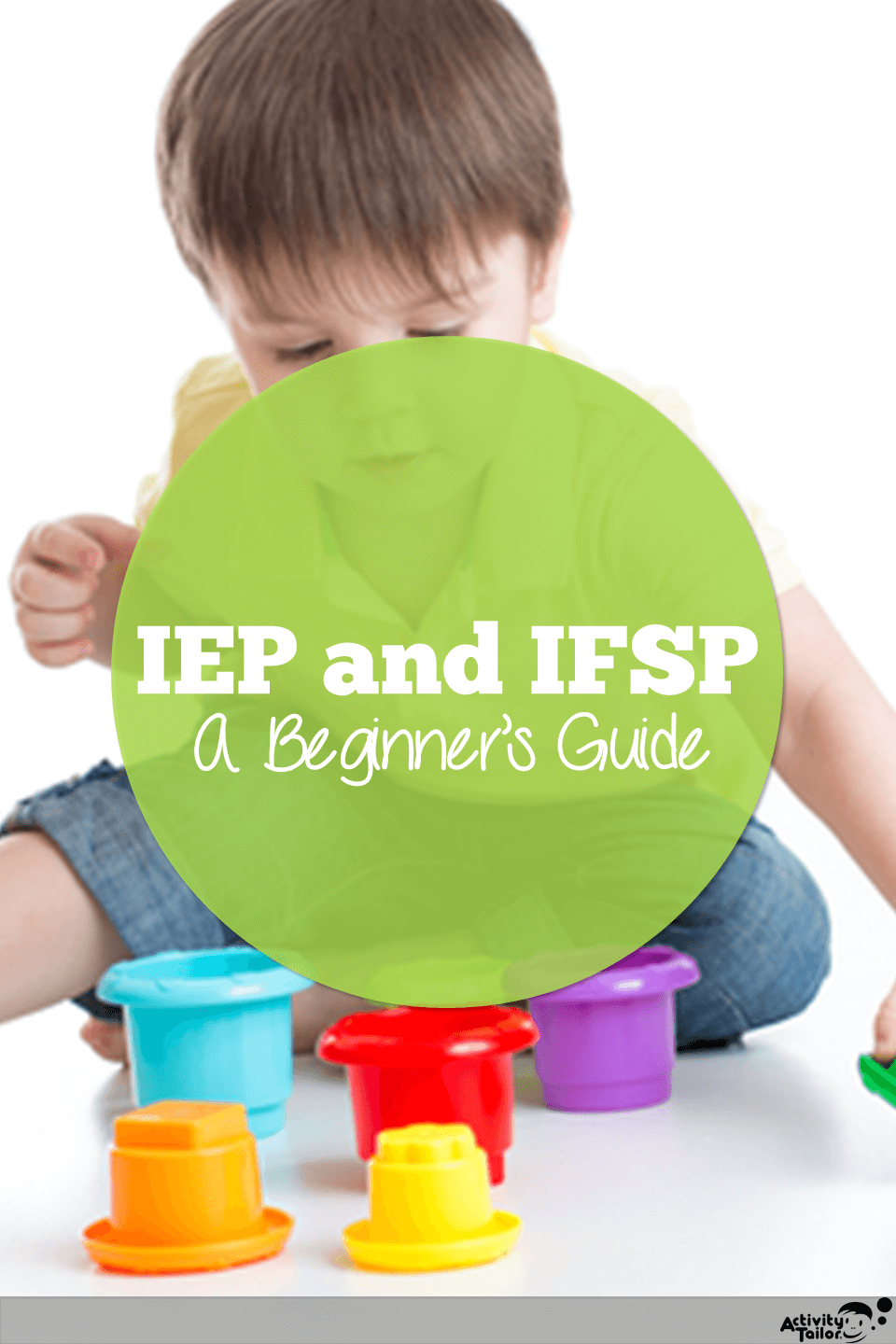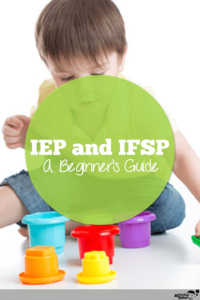 What are They?
IEP stands for Individualized Education Plan. It is an educational document describing the services and accommodations needed for children with disabilities ranging in age from 3 to 21.
IFSP stands for Individualized Family Service Plan. An IFSP is used to outline services needed for children with delays from birth to age 3 in the early intervention setting.
Commonalities with an IEP and IFSP
There is a great deal in common between an IEP and IFSP. Looking at the reasons these were created will help identify and understand these common pieces.
Legal Beginnings
Children with disabilities ranging in age from birth to 21 living in the US are legally entitled to free and appropriate public education through the Individuals with Disabilities Education Act (IDEA). This law guarantees a child received services in the least restrictive environment possible.
What we know as IDEA now was first signed into law in 1975. Amendments to the law have expanded its protections from only school-age children to infants and toddlers and their families as well.
An IEP and IFSP help fulfill the legal requirements of IDEA.
Read more about your and your child's rights under IDEA here.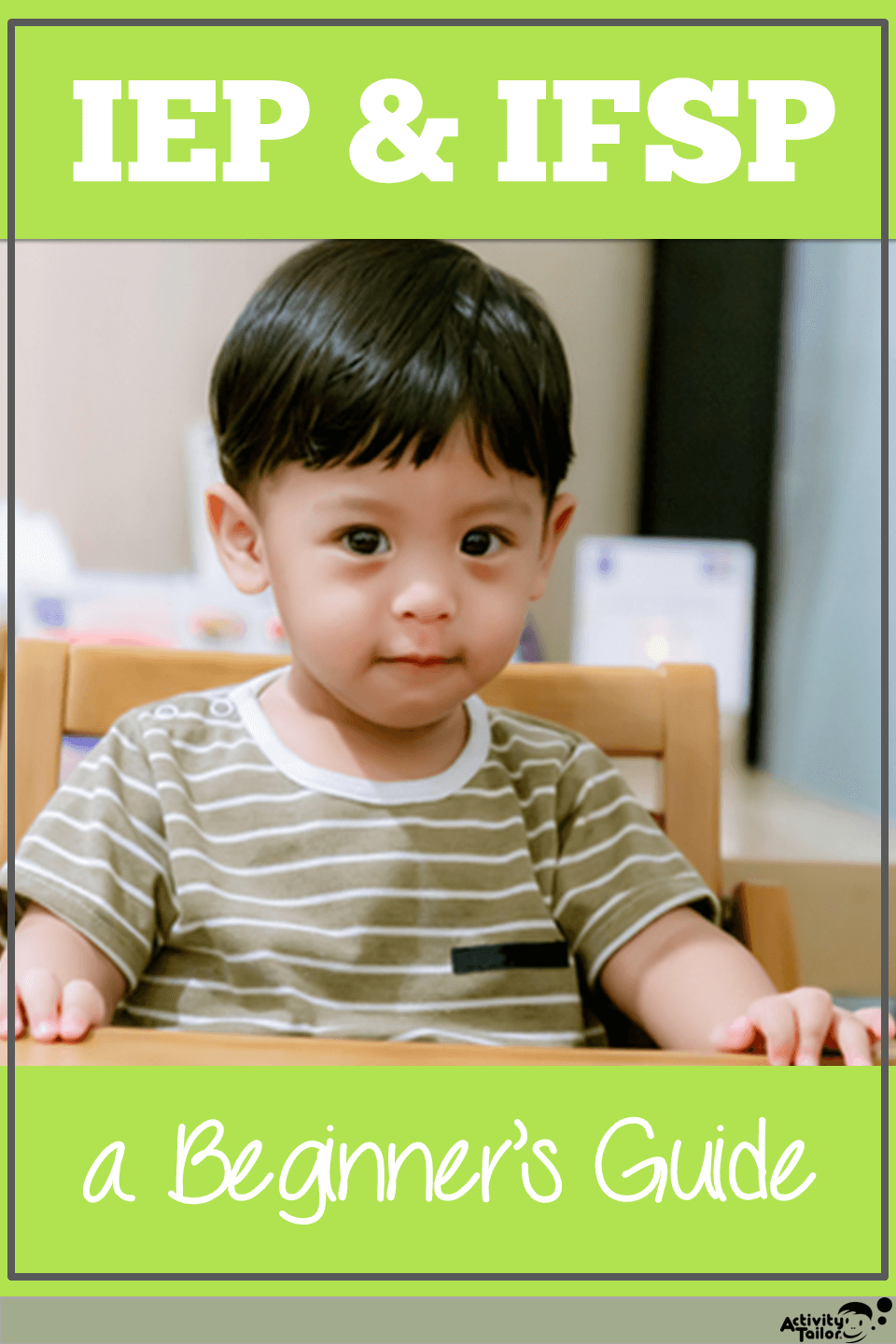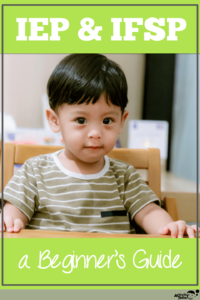 Basic Purpose
An IEP and IFSP are both written documents to outline a child's delays or disabilities and the appropriate services required to address these needs.
The goal for each of these documents is to improve a child's quality of life by monitoring progress over periods of time.
Approach
A multidisciplinary approach is used to create both an IEP and an IFSP.
Collaboration among different caregivers and professionals is key to making the best action plan for each unique child and family!
Differences between an IEP and IFSP
Although there are several similarities between an IEP and IFSP, there are definite differences:
Specific Purpose

Setting

Team Members

Family Involvement Level

Updates Required
Specific Purpose
Besides the difference in the ages of children served under these plans, the main difference is their respective purposes.
An IFSP is broader than an IEP. It considers a child's entire life and capabilities across five main developmental categories.
Communication

Physical (vision, hearing, and motor skills)

Cognitive

Social/Emotional

Adaptive (age-appropriate life skills)
An IEP focuses on the educational needs of the child. This document considers how a child's delays or disability affects his or her participation in school or impacts academic performance.
Setting
With the child's entire life in mind, the services of an IFSP often are carried out in the child's home. Part C in the Individuals with Disabilities Education Act (IDEA) states that these services should be provided in a child's "natural environment" like their home, a Head Start facility, daycare, community center, or other places where a child is normally found.
The services outlined in an IEP are administered in school or other educational settings. Part B in the IDEA discusses eligibility, least restriction environment, funding, and more in regard to these services.
Team Members
Although the teams creating an IEP and IFSP are both multidisciplinary, there are different team members present:
IFSP
Child's parent(s)

Service Coordinator

Person(s) evaluating the child (e.g. SLP, OT, PT, developmental specialist)

Other family members of the child (if requested by a parent)

An advocate (if requested by a parent)
IEP
Child's parent(s)

General education teacher

Special education teacher

Another school representative

A person able to interpret testing results (e.g. SLP, school psychologist)

An advocate (if requested by a parent)
Family Involvement Level
Due to the family-focused purpose of the IFSP, the level of family involvement throughout the duration of the IFSP is much higher than with an IEP. A family's needs and desires for their child's development are at the forefront of goal planning in an IFSP. A family member is often present for each therapy session that occurs during the duration of the IFSP.
Parents are legally an equal part of the IEP team, but their involvement is not at the same frequency as it is with an IFSP. They are able to call an IEP meeting at any time, but most families will just meet with the rest of the IEP team at the annual meetings.
Updates Required
Updates about a child's level of progress must be reported more frequently with an IFSP than with an IEP.
Reviews are required every six months with an IFSP while an IEP is only required to be updated once yearly.
Transitioning from IFSP to IEP
If a child still needs services on their third birthday, they will transition from an IFSP to an IEP. This transition process often begins 6 months before the child turns three.
The family's service coordinator through the early intervention program is often the one who assists the family through this transition process.
Then, a team from the family's local school system will determine if updated or additional evaluations are needed, discuss any questions the family has, and determine if the child is eligible for special education services based on their needs and the impact they have or don't have in the school setting.
Now that you have a better understanding of an IEP and IFSP, you can be even more confident in who you are as your child's parent. Remember, you're exactly what your child needs!
You may also be interested in reading:
Why is Early Intervention Important?
What to Expect from a Speech and Language Evaluation