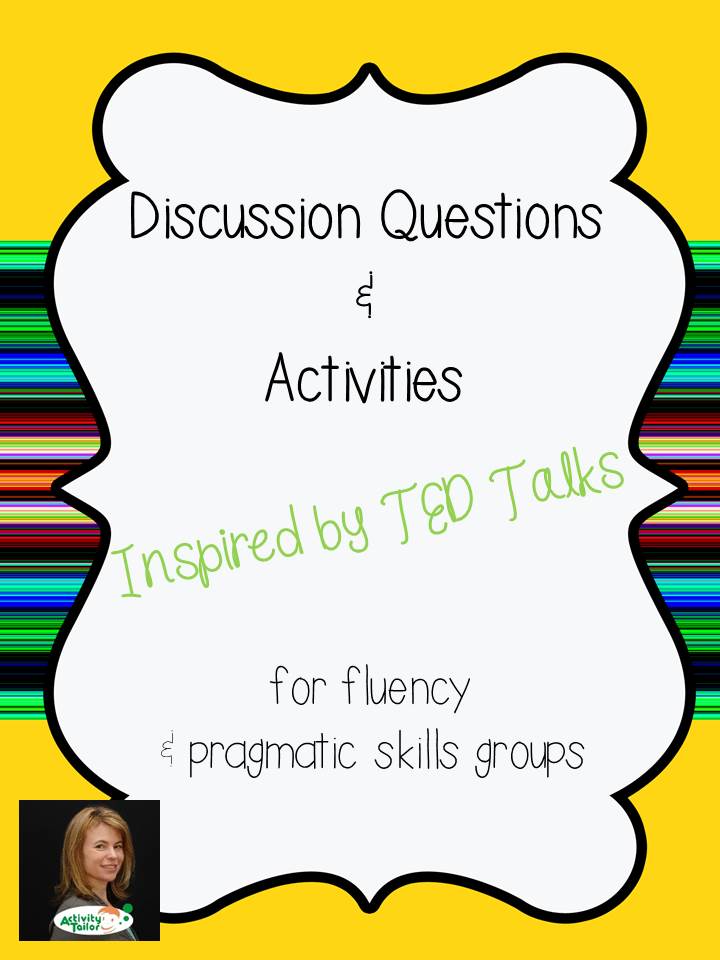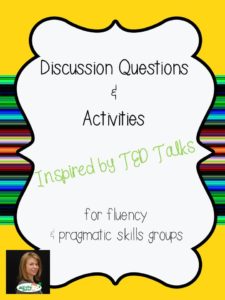 I'm really into TED talks. I love that I can pop on the site and, over a quick sandwich, be thinking about a topic I've never considered before or reconsidering one in a completely different light. A few of these have been so pertinent to my older students or own kids that I've had to share. Watching a short video is a great way to get them talking and present ideas without hearing a lecture from me.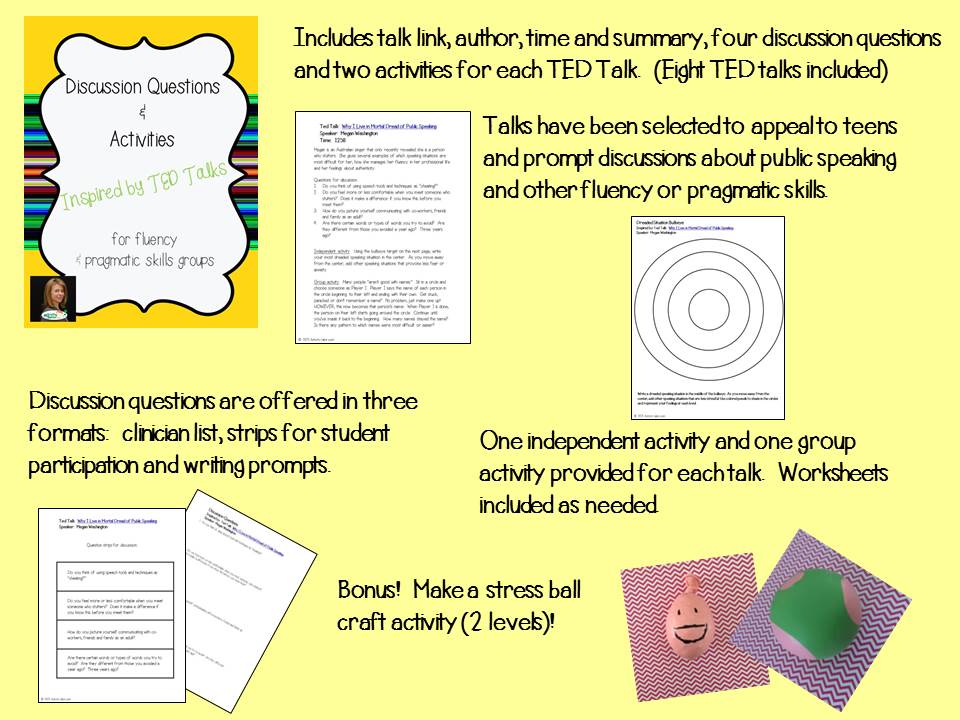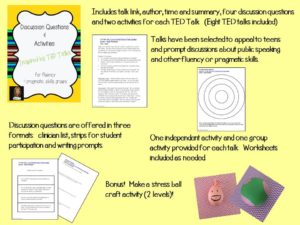 To capitalize on the wonder that is TED, I've put together a packet that includes discussion questions and activities (one indepent/one group) for each of eight TED Talks. If this interests you, click here for more info. (Does anyone out there have going to TED on their "someday" list? I do!)
Now it's time for more exciting news. The folks over at TPT are having a "Teachers are Heroes" one day sale this Wednesday and, you know what? SLPs are heroes too! Most sellers will discount their store 20% and you can use code: HEROES for an additional 10% off your purchases.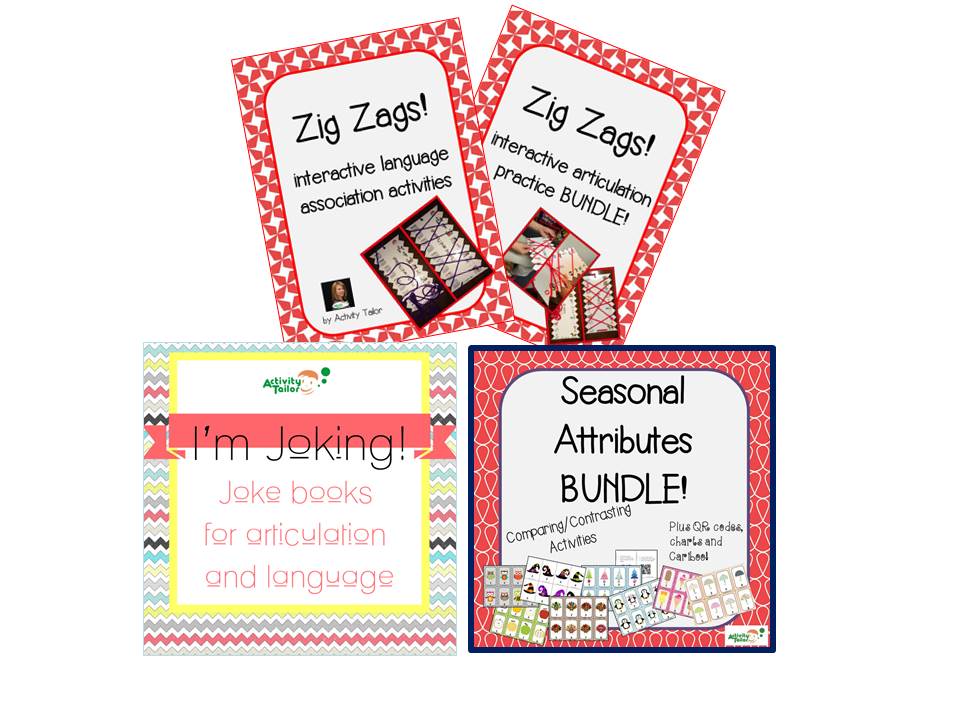 This is a great time to clear your wishlist or pick up bundles! I hope you'll take a moment to consider: I'm Joking! Joke Books for Articulation and Language, my Zig Zag products or my Seasonal Attributes Bundle.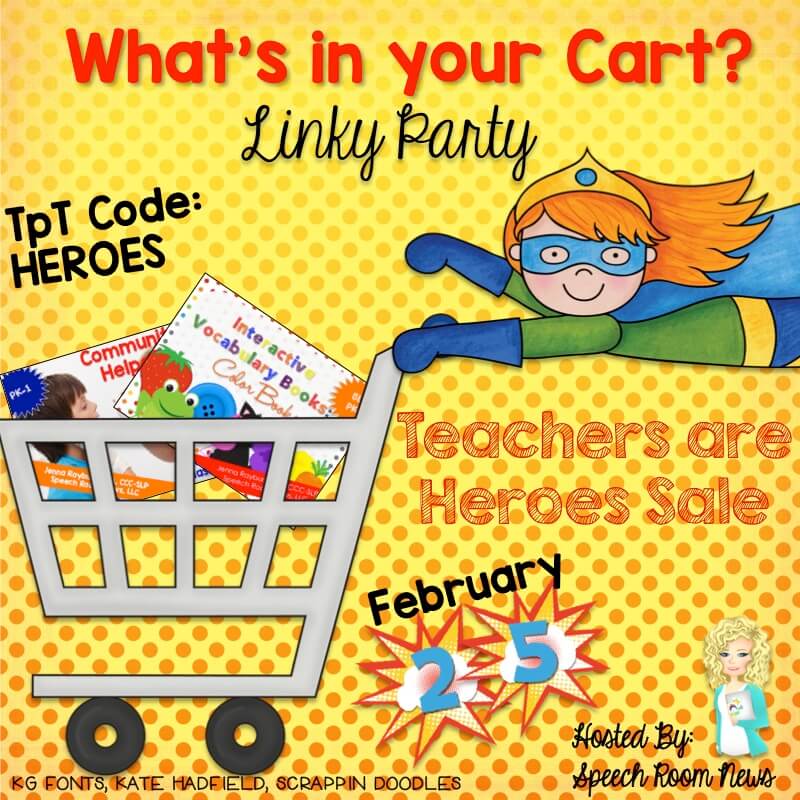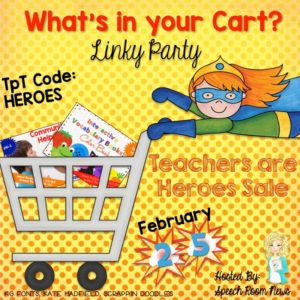 Wondering what other therapists will be adding to their collection? Check out the linky party at Speech Room News or peek inside my cart below.
Read and Sequence (The Moffatt Girls): This was designed for the regular classroom but will be a huge asset to those kiddos struggling with sequencing tasks. I have several who are non-readers but I'll simply read the story to them and have them sequence as we go.
Listening Skills Resource (Jenn Alcorn): The temptation to make a hundred copies of the "I am a good listener" checklist and pass them out throughout the day is almost to much to resist!
March: A dab of Speech and Language (Speech is Sweet): This no prep packet of activities for artic, language and fluency will cover a whole host of students.
Fast Pace Race: Articulation Challenge for TH (Pam Dahm): This phoneme keeps coming up for me. This looks like a fun way to work on carry-over so these kiddos can move off my caseload!