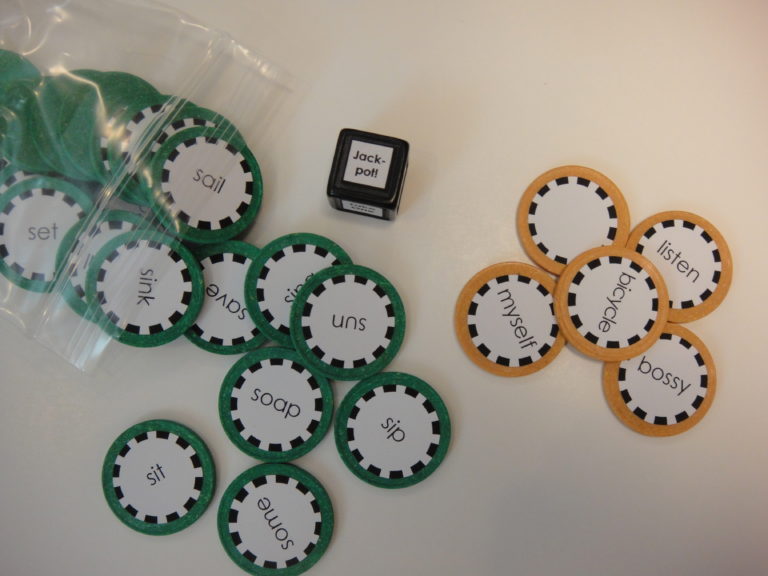 Did you win the $640 million in the Mega Millions drawing? No? It wasn't me either. Though I guess my odds would have been (slightly) better if I'd bought a ticket.
I do, however, have a way you can hit the jackpot in your own therapy sessions. I created a game several years ago, Articulation Jackpot, that has been beloved in my therapy room and elicits mega trials with all the excitement you'd expect from a high stakes table.
The game is very easy to learn. Tokens are passed out to all the players with any remaining placed in the middle of the table. Players then roll the die and follow the instructions to either take one or two tokens out of the pot, place one or two in the pot, have everyone place one in, or, hit the jackpot and take them all!
I have students read me their tokens before we start and then read those that they play on their turn ensuring lots of articulation opportunities.
Activity Tailor is now offering "Articulation Jackpot for R" and "Articulation Jackpot for S". Each game includes a custom die and 93 tokens—31 color coded tokens for each position (initial, medial, final). Thirty tokens have printed words; one token is left blank for the therapist to customize (i.e. with your own name, school name/mascot, etc.).
"R" and "S" are sounds that come up frequently with our artic kiddos and they tend to stay with us for awhile. Activity Tailor creates fun games that can be used over and over to make sure therapy is fun and motivating. Should we deal you in?
Click here for more info on Articulation Jackpot for R and Articulation Jackpot for S. Also available, Jackpot for Sight Words!