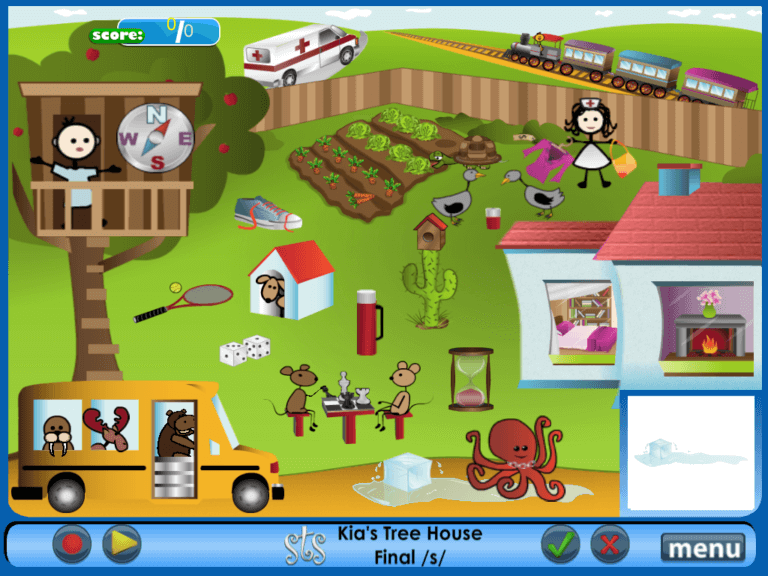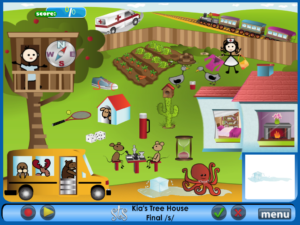 Update 6/29/12: Congratulations to Arlen Schwarz, Carol, Kim Hovey (2!), Debbie Childs, Janice and Robyne who received a free app from STS!
I love working with little ones. There is something so sweet and fun about the six and under crowd. Of course, the disadvantage of this group is that they don't always….cooperate. Sure you can cajole, implement penalties or resort to bribery; but I hate going there. So these sessions require some advance thought and more creativity so you have…..well, stealth therapy.
Speech Therapy Services LLC has come up with some really cute articulation and early vocabulary apps that cater to this population, or anyone else who might be a bit less compliant.
I had a chance to use both artic apps, "STS Artic Town for S and S blends" and "STS Artic Town for L and L blends". The set-up is a little bit like a hidden picture. There is a scene with a variety of target specific illustrations. For instance, the "Little Log Lake" scene for initial /l/ includes illustrations of lightening, a lunchbox and lemon within its 14 targets. The bottom right hand corner shows the illustration you need to locate (all items are obviously located). Clicking on the wrong picture gets you a clunking sound. Clicking on the correct picture rewards you with a silly animation.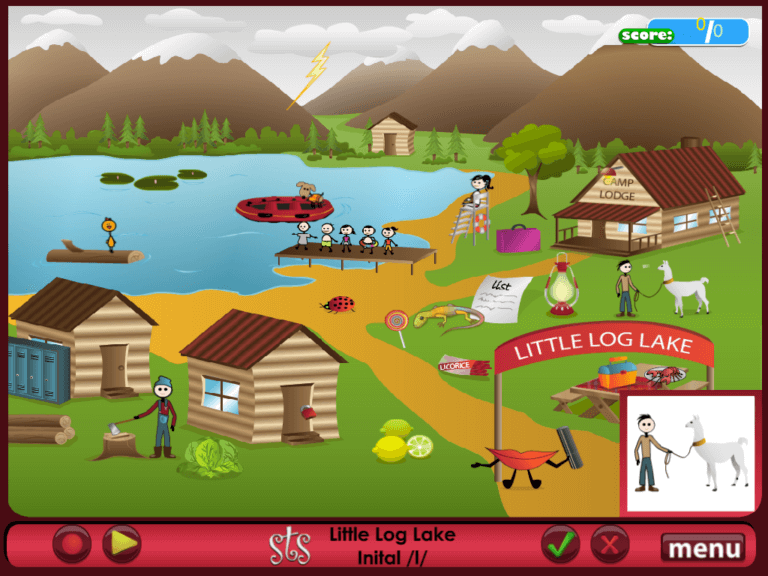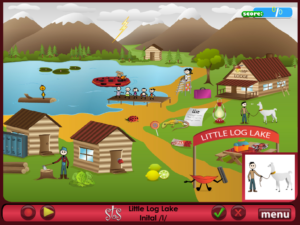 Many of the animations are so perfectly goofy, they are irresistible. For instance, the llama spits! How many elicitations of llama could you get if he'll spit?! Lots and lots! (Getting a screen shot with the llama mid-spit was much more difficult than one would imagine. Please take a moment to appreciate.)
Another item I appreciated is a bunch of pictured items including the target sound that aren't in the "look for" dial. This means you can discuss other items with the same target and possibly even discuss what an appropriate animation for that one might have been. Oh my goodness! Literacy skills, creative and critical thinking!
In addition to scenes for initial, medial, final positions and blends, there is a "create a scene" option. In this mode, you chose the familiar background from the artic picture game and drag the target illustrations, which run across the top, on to your scene in whatever position you would like. All the illustrations, whether on the previous artic "dial", are available to drop and drag.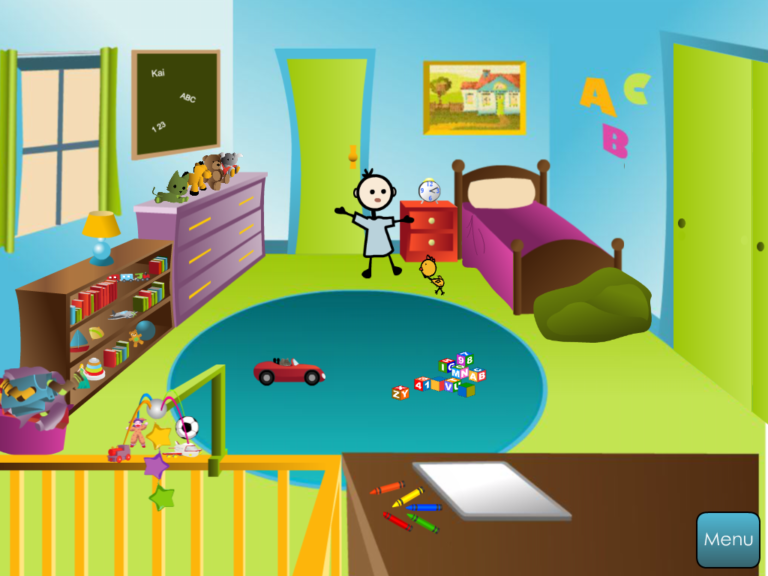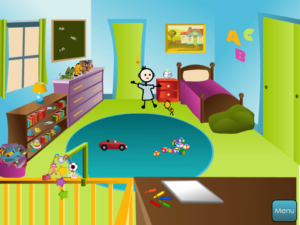 "STS House" and the soon to be released "STS School" are similar in set up, but target basic vocabulary skills. "STS House" has four scenes–bedroom, kitchen, bathroom and backyard. Each scene has three modes. One is "explore only" in which a touch on many of the items will give you the animation. The game mode, like the artic games, has you looking for an object within the scene. The final option is "create a scene". I particularly liked that this early vocabulary app gave the option for "explore only" rather than insisting on matching. For some children the scene might be a little too visually busy or the matching task simply too complex.
I must also mention that there is a particularly funny chick that shows up in scene after scene. It was great fun to guess where he might next pop up!
Keen to acquire one or even more of these? I have SEVEN promo codes to give away! Three for "STS Artic Town for S and S blends", two each for "STS Artic Town L and L blends" and "STS House".
Here's how you enter. Leave a silly l sentence in the comments below by midnight EST on June 28, 2012 . The winners will be randomly selected and, the best news, you can win more than once! Winners will be notified by email and announced on June 29, 2012.
I'll be hoping lady luck lends you a hand in this lottery!