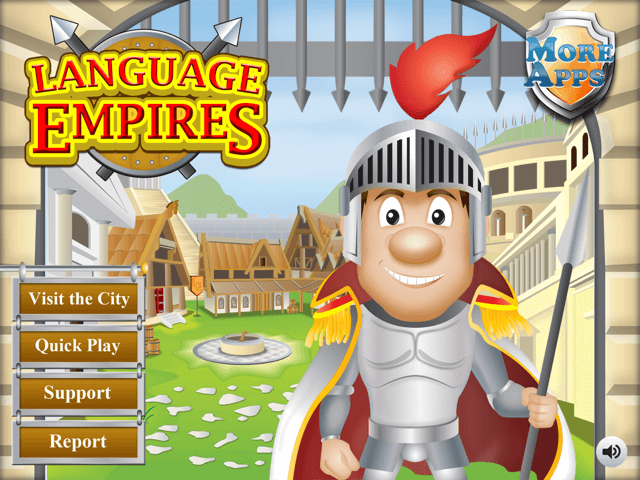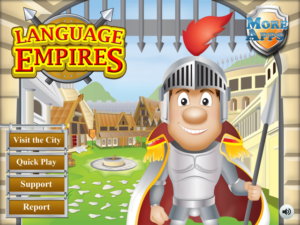 I'm astonished as to the number of apps SmartyEars now has, as well as the frequency of new releases. I recently had the chance to test "Language Empires" which I was excited about because it addresses higher level language skills much more in keeping with what my caseload requires.
Let's take a quick look around and see what it has to offer!
Language Empires covers a number of language skills: Vocabulary, Which questions, Why questions, How questions, Predicting, Sequencing, Inferencing and Figurative language. Many of the sections have various levels. When you open the game you will choose or add a player(s). Then you will see the "island." Simply drag the players icon to each of the regions that you want to target. (For you board game enthusiasts, it has a "Risk" or "Settlers of Catan" feel). Players can be in multiple regions, and players can be in the same region if you are playing as a group.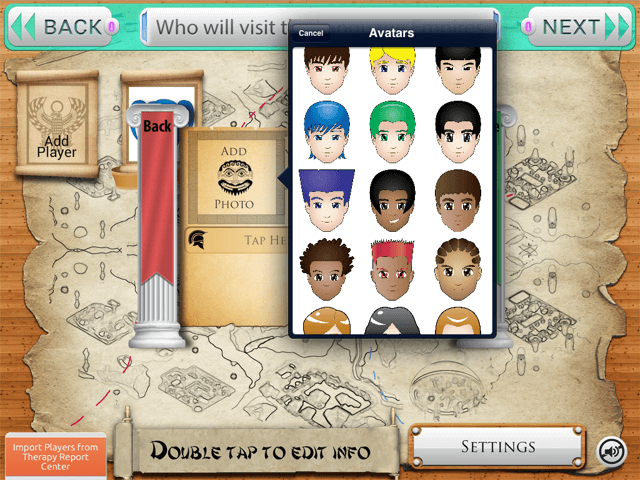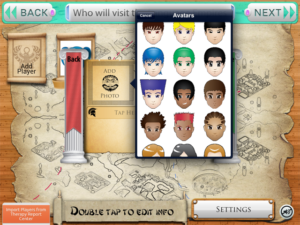 Now it's time to play! The avatars of all the players will appear at the bottom of the screen and it will indicate whose turn it is and provide an appropriate question. Scores are recorded and can be viewed at any time. I particularly liked the easy to read bar graph of scores, including the color coded performance levels. Reports can be shared in a variety of ways including email, printed copy, etc.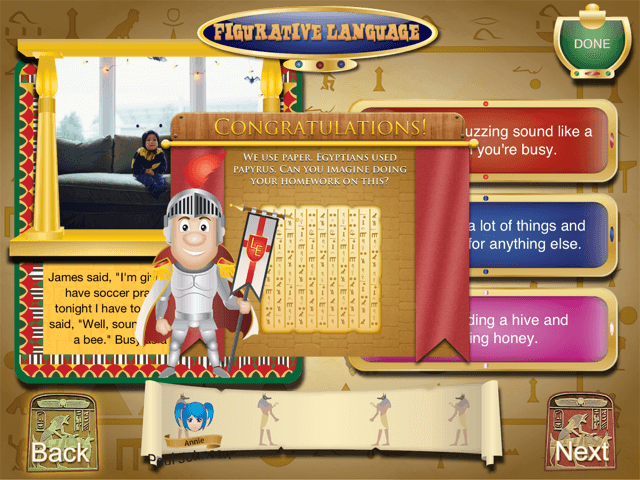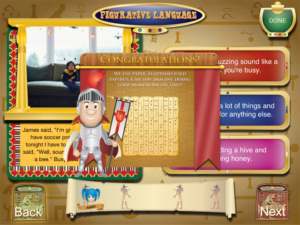 Players will earn "treasure" as they score correct answers which will show in a kind of trophy case that can be viewed when your game is over. I think this would be motivating for lots of kids. You kind of want to "fill up" those empty treasure holes!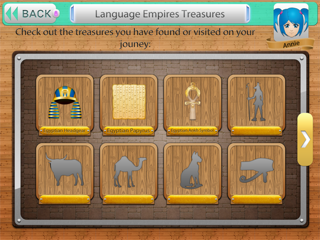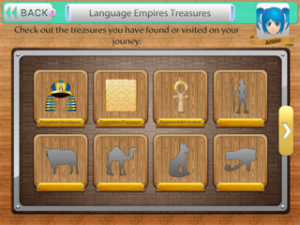 Now let's discover the lands!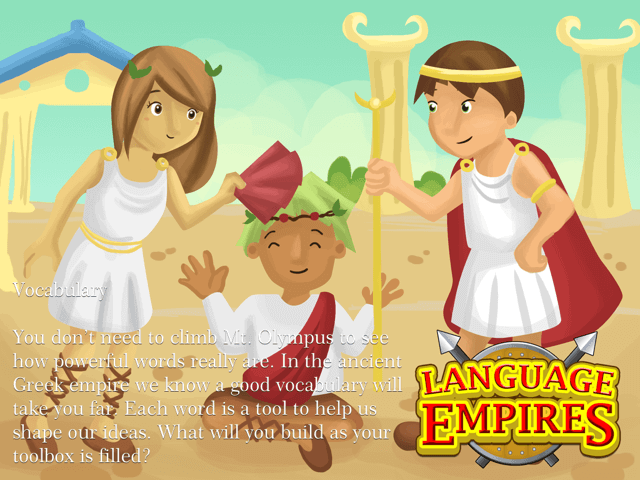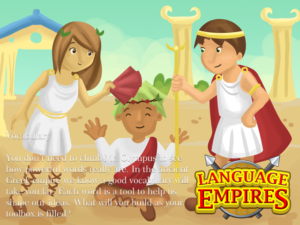 Each region has a specific flavor such as Ancient China, Medieval times or the future. Treasures earned in each land are specific to the region's theme. The first screen to show when you visit a land gives an overview of the skill to be targeted as well as an introduction to the theme.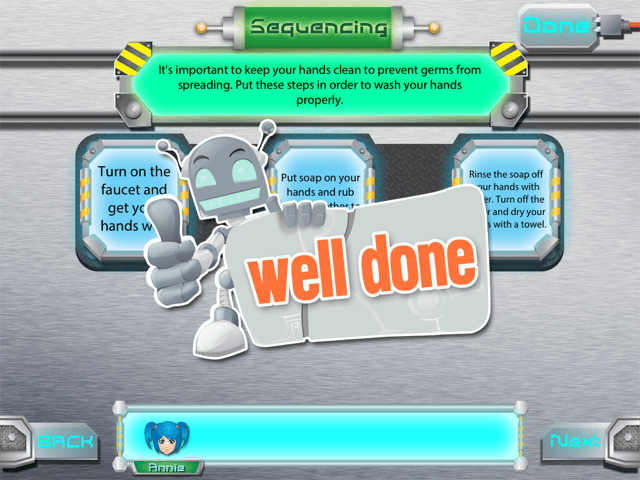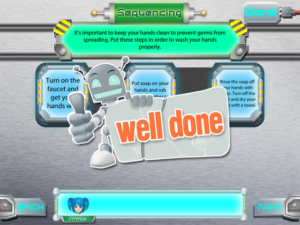 As you make answer selections, you receive "try again" or "well done" messages. If you receive a "try again," your incorrect selection disappears and narrows your choices.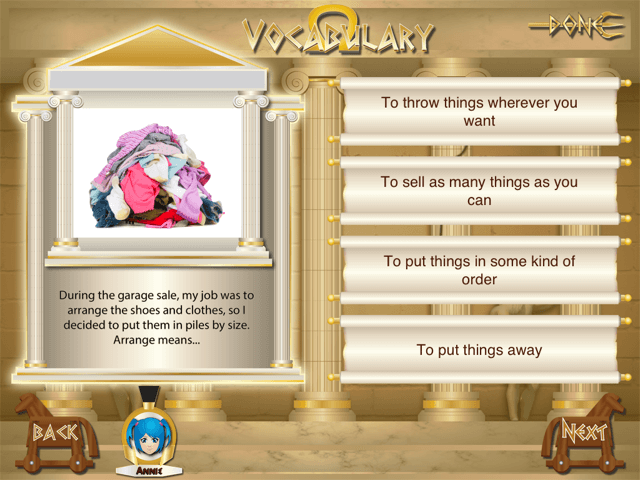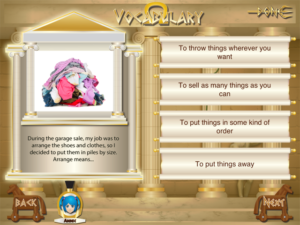 Vocabulary: This land offers two different levels of vocabulary. Level 1 includes words such as: explore, flexible and arrange. Level 2 includes: typical, reliable and endangered. Players are given a short scenario that uses the target word and then asked what a specific word in the passage means. To the side, the player has four possible definitions to choose between.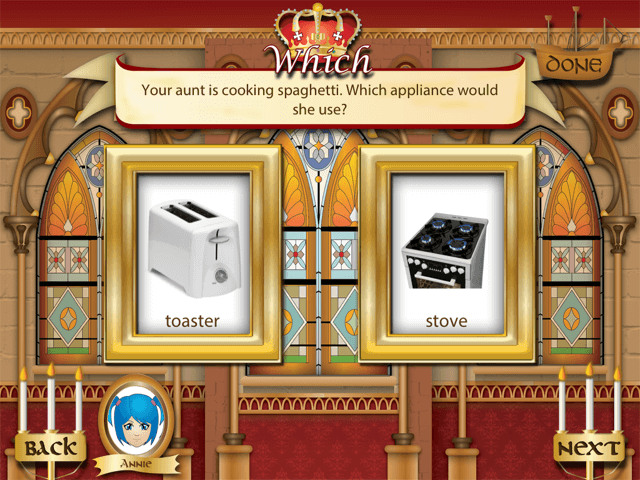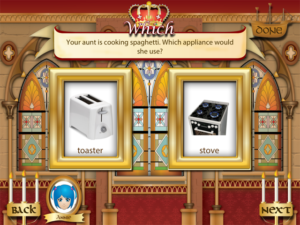 Which questions: This land also has two levels. Level 1 will give a player two answer choices, Level 2 gives players three choices. Again, you have a short passage, and a comprehension question containing "which."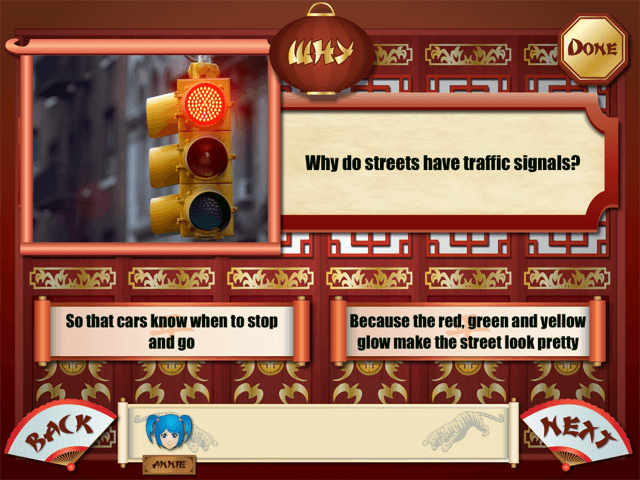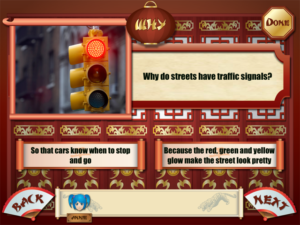 Why questions: Similar to the set-up of "which questions," but with three levels. Level 1 has two answer choices, Level 2 has three choices, Level 3 has four choices. A short passage is read, and the player is asked a comprehension question containing "why." Periodically, there will be a question pertaining only to a pictured scenario.
How questions: Short passages or pictured scenarios are offered with follow up comprehension questions containing "how."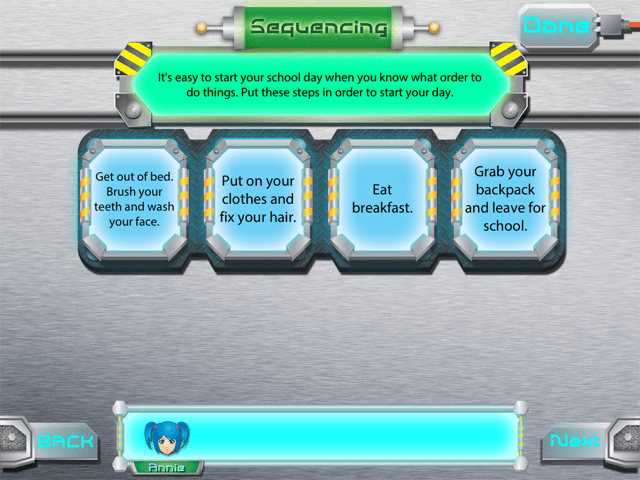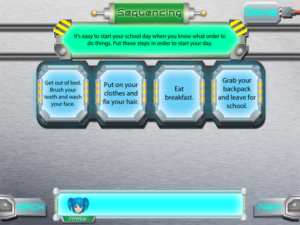 Sequencing: There are three levels in this region. Level 1 has you order three items. Level 2 has four items to order and Level 3 has five. The only difficulty I had with this region is that a couple of the sequences, such as getting ready for school, might have a couple different "correct" answers and not one clear one.
Predicting: You have three skill levels for this goal. Level 1 gives two choices, Level 2 gives three and Level 3 gives four choices. Players are asked to speculate what might happen next after hearing a short passage or viewing a pictured scene.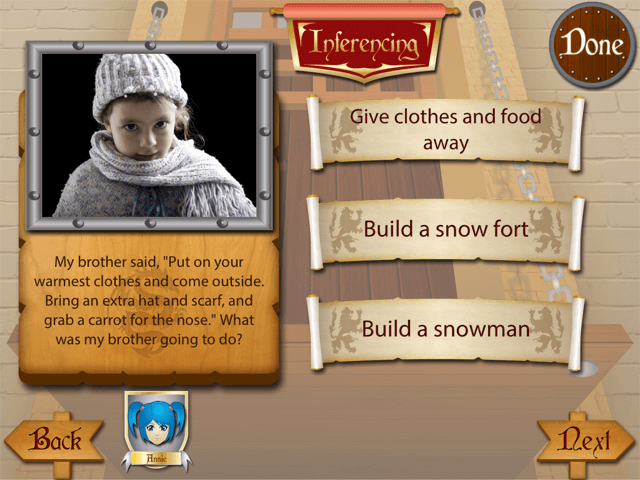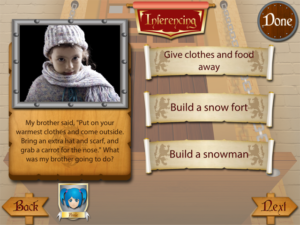 Inferencing: This has two skill levels. Level 1 offers two choices and Level 2 offers three answer choices. Players infer what might be occurring in pictured scenarios or after a short passage.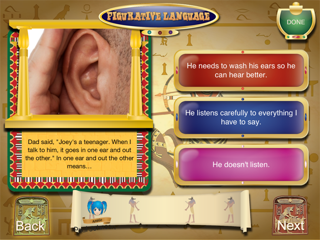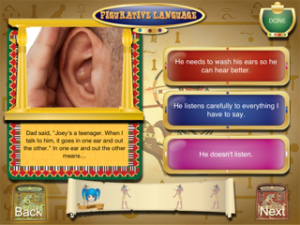 Figurative language: Players listen to short passages that include an idiom, simile or metaphor and asked to choose the meaning.
I'm very excited to use this! Because most of my students are very high functioning, traditional speech materials can be too low level for me to use without significant adaptation. The higher level skills covered here are going to be invaluable!
This review refers to version 1.4 and is available in the iTunes app store for $24.99. I received a copy for use and another to giveaway, but the opinions expressed are strictly my own.
Wish this was on your iPad? It could be! Enter my giveaway below. You can enter up to three times, but you only have until midnight EST on October 13, 2013! The winner will be randomly selected and announced on October 14, 2013. Good luck!