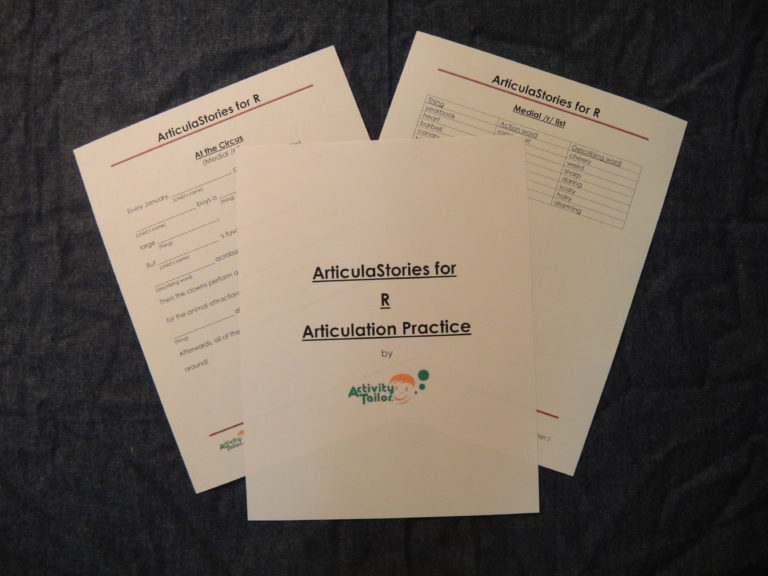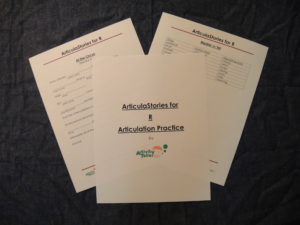 I've always loved the silliness of Mad Libs, and my own kids do too. We keep a couple of books in the car and I love listening to them fill in the blanks, especially with friends, and then roll around in laughter at their results.
I also use Mad Libs in articulation therapy with some frequency. If you have a child with a commonly occurring error like /r/ or /s/ and at the level of carryover, it's easy enough to use an actual Mad Libs sheet. But I often create my own, so I can control the content. Here's what I shoot for:
1. Appropriate sentence length with a minimum of one target word per sentence.
2. Decrease the number of inappropriate words as much as possible. This means if my target is initial /r/, I avoid medial and final /r/ words if at all possible.
3. Inserting the child's name, which they love.
If I have an older child that knows parts of speech, it's really easy to simply request "noun", "verb", or prompt with "thing" or "action word", but an alternative is to provide a target appropriate word list for selection.
To run this activity, I request the fill-in-words from the child, then read the entire paragraph aloud to them. Then, we go back, and they read it once or twice to me. I have a fair number of kids who like to go back and "correct" the story by re-inserting words that make sense. The entire task takes 5-10 minutes and is great for moving into sentences (I push for some sentence practice almost from the beginning if possible). Most of the kids are keen to bring the story home to read to a parent and some like to bring home a blank copy to do with a sibling, friend or parent, so it has multiple uses.
If we aren't quite ready for sentences and/or reading is too much of a struggle, I might read the "body" of the story, allowing the child to only read the words they filled in or ask them to listen and identify words with "their" sound.
Interested? Check out my free stories for medial /r/ or /ch/ in all positions. Want more or a different target? You can purchase a mini e-books for either /s, r, th, ch/and it costs less than your afternoon coffee drink! (click here) You'll be mad about them!