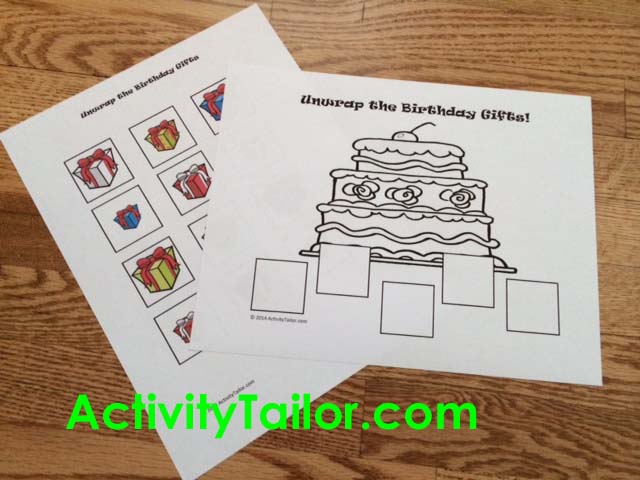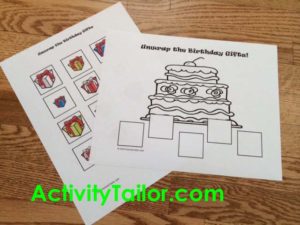 Presents are so fun, I've reimagined my "Unwrap the Gifts" Christmas freebie with a birthday theme that can be used year round!
Print one cake sheet and a set of gifts for each student. (One gift sheet will actually provide enough cover for two sheets.) Cut out the packages and attach on squares with a small, tape "hinge" along the top edge. Fill the packages with target pictures. You will need 1" x 1" pics or 1.5" x 1.5" slightly trimmed down.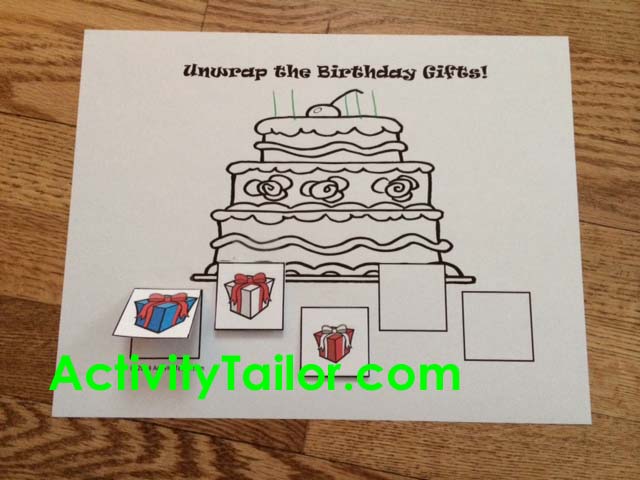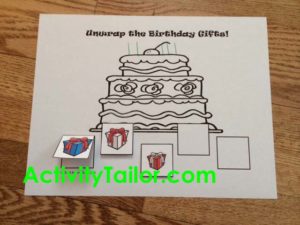 Here's how I'm using these in my therapy room:
Articulation: Provide an assortment of target specific pictures and determine which would be the most appropriate to give (or receive) as a gift. For example, if targeting initial /r/, which gifts would you pick from: radio, radish, rabbit, rattlesnake, or rake? The sheet lends itself particularly well to targeting "th" since you can add, "(item) birthday gift," as you lift, whether or not the picture contains the target "th."
Language:
Preschool: Use to discuss concepts of in(side), under, open and close or use as a vocabulary building exercise by naming pictures. Gift wrappings are also a variety of sizes to discuss little, medium and big concepts.
School age: Have students conceal pictures cut from catalogs (or specifically provided target pics) and play a 20 questions type guessing game to find out what is beneath the wrapping! Or print several pages and create a variety of category themed gifts—all pets, all toy vehicles, all sports equipment, etc.
This open-ended worksheet can be used for a number of different goals. Get creative!
And we'll add candles based on our next birthday age, too!
You can pick up your FREE copy here.