Rachel stopped by my booth at the ASHA convention. A self-possessed grad student, she handed me her blog card. Anyone excited enough about sharing information, while in school no less, and organized enough to have business cards with contact info is impressive in my book!
Hello, all! My name is Rachel from Let's Talk Speech Therapy. I'm so excited that Activity Tailor has invited me to share with you something that is near and dear to my heart–Early Intervention!
There are so many wonderful ways to reach and work with this special population, but the way that I have found I love the most is through toys. I love the idea that learning can be fun and functional at the same time, and toys are a great way to bridge that gap. I've found that the more parents see me integrate toys into therapy, the more they are encouraged to promote carryover outside of therapy time; it's what they have at home (or close, anyway) and they can model what I do.
I want to share with you 3 of my favorite toys to use with this approach to therapy (but honestly, it was hard to pick just3!)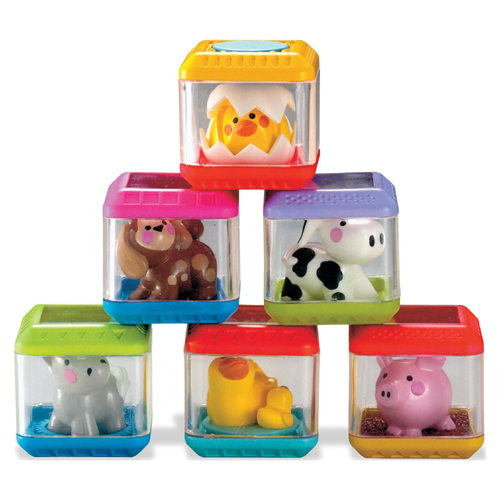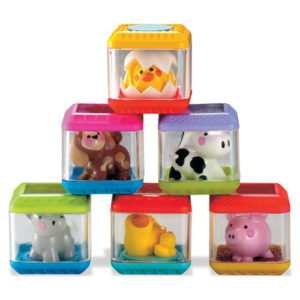 1. Peek-a-Blocks Discovery*
What they are: These are blocks and balls that can be used alone, or with some of the other toys Fisher Price makes. Each block and ball is different. Some have textures on the outside; some have objects or animals on the inside.
Why I like them: These toys are small, transport and store with ease, and clean up quick (because we all have that client who mouths everything!) Some of the objects inside them are just plain cute, but the ones pictured here are a bonus-cute AND they make noise! More on that later. I've always picked up mine gently used (think garage sales or hand-me-downs) and gave them a good disinfecting, as opposed to buying them brand new.
Targets: These are great for joint attention, especially the ones that make noise. The varying items inside are great for eliciting language, requesting, and verbs. The textured ones are great for sensory integration and describing. Following directions can be elicited lots of ways ("Show me bumpy" "Find the pig"). Don't forget rolling, building, and knocking down!
*Unfortunately this product has been discontinued, but you can still find the blocks on eBay and Etsy!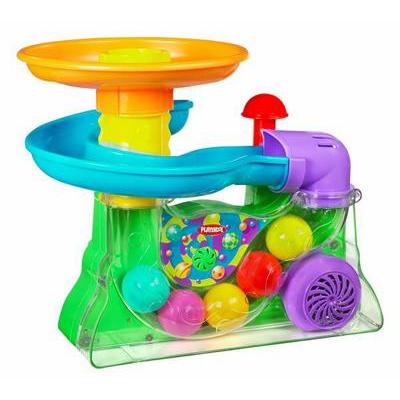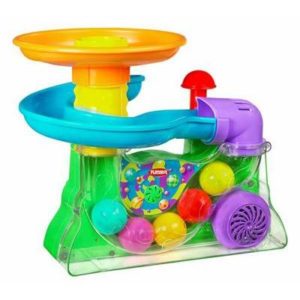 What it is: Playskool's Busy Ball Popper Toy is an interactive toy that, when the switch on the back is turned on, plays music and uses air conduction to push the balls up through the shoot and then cycles them back around the red and green path, only to be popped back up again. The child can activate the motion by pressing what is picture here as the orange face on the right.
Why I like it: The interactive format of this toy keeps my clients feeling in control and provides great reinforcing music. The anticipation of the next ball popping up never seems to get old with some, and the cyclical motion allows for enough time to elicit language with kids on all levels. My favorite part? The on/off switch on the back! If I feel like the cycle is too long for a particular child, or that they are becoming disengaged, I can turn it off. Again, buying brand-new is an option, but I snagged mine at yard sale and gave it a good cleaning.
Targets: Requesting & receptively identifying colors of balls to place into the machine (sometimes as 1 pops up, I will knock it off and say "Uh-oh! What color fell off?") or initiation/termination (using my on/off powers!). Repeated line (we say "pop" every time one appears"), joint attention, counting, yes/no, following directions.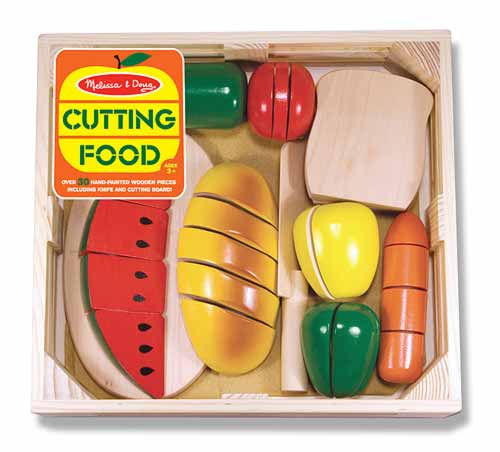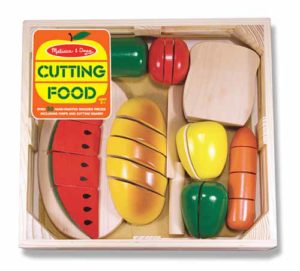 What it is: These wooden foods are held together by Velcro, and have are separated into varying amounts of pieces (the apple has 2 pieces; the carrot has 4, etc.) They can be cut apart by a wooden knife on a little wooden cutting board.
Why I like it: These wooden foods are very true to life, and durable to boot! They're easy to clean and can just as easily be assembled as they can be taken apart!
Targets: Counting, colors, naming, verbs (cut, chop), following directions, pretend play, reinforcement ("for every ________ you say, you get to cut 1 piece"), turn-taking
These are just a few of my "go-to" items that have been big hits with kids and parents alike. I hope you can add some things to your therapy collection, or use them in new ways! Either way, keep on playing!
Thanks, Rachel! Anyone else love these products or have another they would like to share? Please leave a comment below. (No compensation was provided for any of these product reviews. Opinions are solely those of the author.)