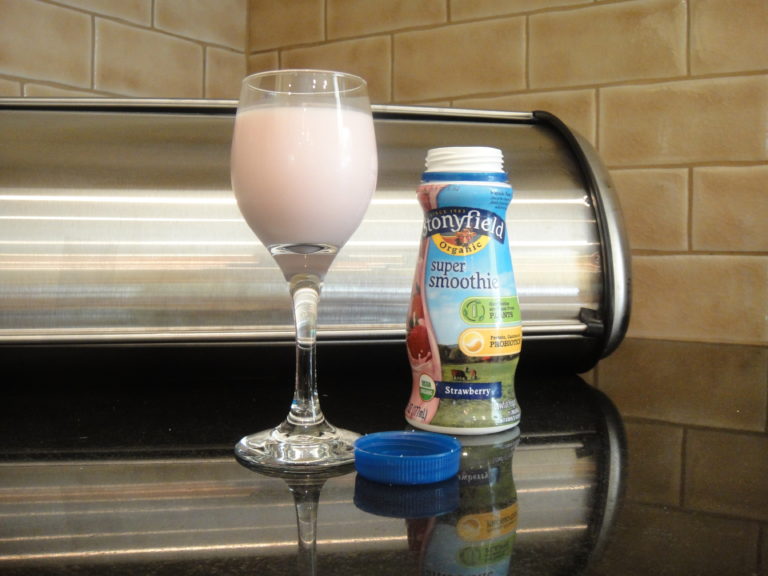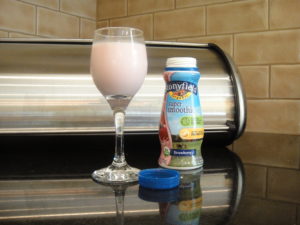 Bowling is a game that's often used in speech therapy. It's a fun way to play and address goals, plus it provides some movement which is much needed with some kiddos.
I've mentioned before that in my household we go through a staggering amount of yogurt (Chobani and Fage) and Stonyfield smoothies. I'd been saving the lids and using them to create speech games, but I recently was inspired to reuse the entire container. Tabletop bowling is born!
Materials:
Empty Stonyfield smoothie containers, clean with label removed. (If you need help emptying the containers, give us a call.) Eight to ten would be ideal, four to six is just fine.
Approximately 2 lbs. of uncooked beans, uncooked rice or sand.
Ball about the size of a tennis or pinky ball. Best if it has a little weight to it.
Items for customization such as Sharpie pens, stickers, or 1″ round stickers.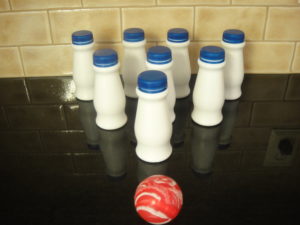 To Make:
Fill each of the containers 1/3 to halfway with the beans, rice or sand. This will make the pins much more stable and fewer will fall on each turn. If you have a kiddo also working on motor skills or strength, you can be strategic with the ball size/weight as well as the weight inside the containers.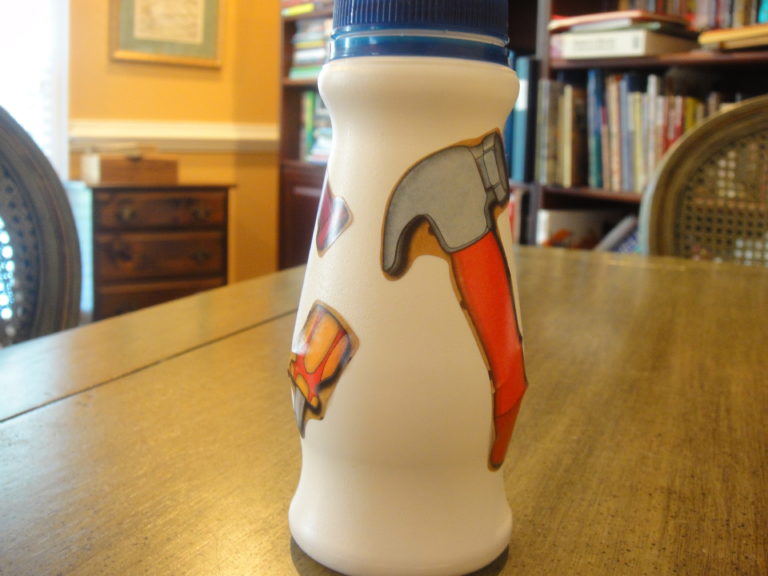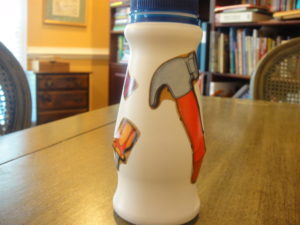 Customize your pins depending on your goals. For early vocabulary you might draw or place an appropriate sticker on the side of each pin. To work on colors, you might use duct tape to "color" each pin. Looking for a category game? Put a bunch of related stickers on each pin. For articulation, you can either write a target word on each pin or put a 1″ circle sticker on the bottom of each pin with a target word. The advantage to this is that you can easily change the targets for other children, or as their needs change–even within a session.
[wpvideo W7GUSncn]
To Play:
Ooo, the fun part! Simply set the pins in a triangle pattern with the point facing the child. As I do the set up, I would run through the targets quickly,
"Here we go! We have: rainbow, rabbit, rest, radio, rake, rope, rhino and raft. Let's see what you get first! What do you think it will be?"
The child rolls, labels the target on the fallen pin and then guesses what they'll get next. For a category pin, I might say,
"Hmm, what do you see? Hammer, screwdriver, nail, screw and pliers. Where do we find all of these?" (in a toolbox)
Stores with a good scrapbooking supplies can often provide you with fabulous (though sometimes pricey) stickers for categories.
You can also use this as a way to jazz up your Bingo cards. Put targets on the bottom of the pins to match the Bingo array and have the child place the fallen pin on the board as they go. Gives you an opportunity to work on matching and elicit another trial as well. If you have a little one, make a "matching strip" of 3-4 of the pin targets. After each turn, look at the target picture. Name it together and decide if it matches a picture on the strip.
"House. Hmmm, no house here. Let's try again. (child rolls) Dog! Let's see….oh, I see the dog, too! Dog, dog. That's the same."
Hoarding a collection of only lids? Check out, "Lots of Pros" and "Shooting for Good Speech" for other ideas!
Let's hear it–what is your very favorite yogurt or smoothie flavor? I greatly prefer the texture of Greek yogurt and Fage's 2% and honey is my all time favorite!
(Alas, other than my weekly grocery purchase I have no relationship with any yogurt companies. Consumption and reviews are strictly my own.)