Congratulations to the following readers who won in my giveaway–Karen Reynolds, Jenise, Julie, Jessica B., Amy, Dina and Emily S. An email with the code has been sent to you directly!
Is it me, or is fluency one of those "specialized" areas of our field that many general practitioners try to avoid? It doesn't show up with anywhere near the frequency of articulation or phonological processing disorders or that wide ranging beast that is language disorder/delay so if you don't feel comfortable with it you likely don't get much opportunity to remedy that.
I had a clinical supervisor who was passionate about fluency so we got a lot of practice with this in our university clinic. In fact, so much so that I was inspired to create a poster session for ASHA with a fellow grad student during our final year. (FYI awesome experience). And I've been delighted to either confer on or pick up a few clients in the past couple of years.
Here are a handful of the activities I use with regularity (***many of these are inspired by or adapted from the Stuttering Foundations DVD series: Practical Ideas for the School Clinician)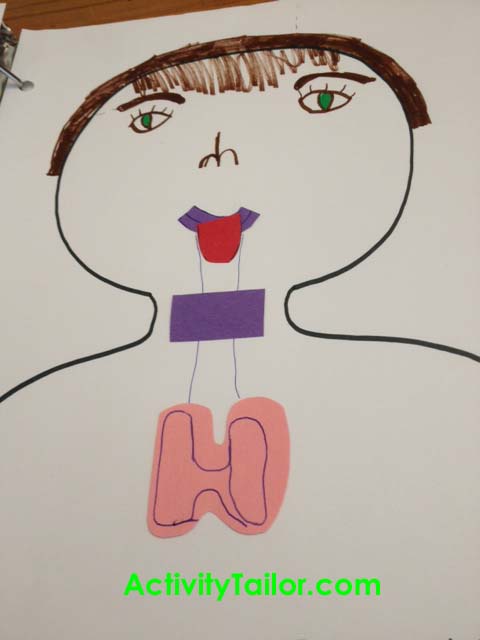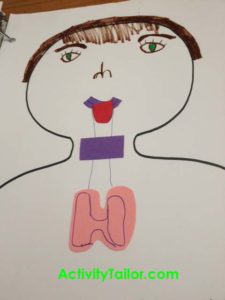 1. Speech Helpers: I almost always start with a discussion of the major speech helpers–lips, tongue, voice box and lungs–and their roles. I stress the importance of their being able to move freely so they can do their jobs. Then we make a speech helper (wo)man.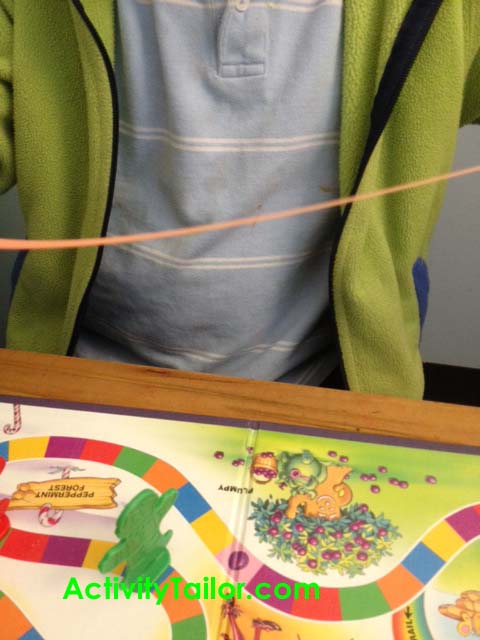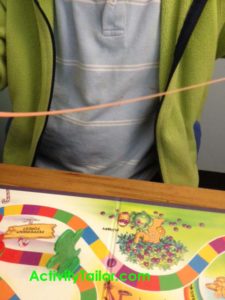 2. Stretchy speech: I like to use Silly Putty as a visual demonstration of streeeeetchy speech. Not only is it great fun to squish, but a slow, smooth pull gives you nice long strings. An abrupt pull makes a snapping sound and a short, angular break.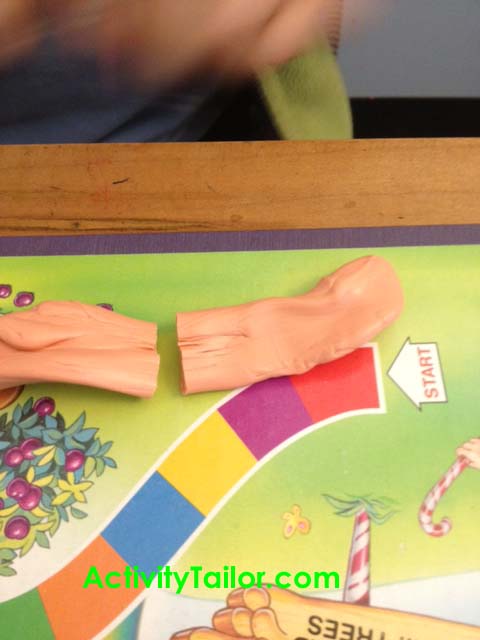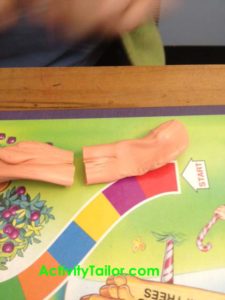 3. Tell me the truth: I try to address a lot of facts. Depending on the individual child, this might include:
Everyone stutters a little.
Worrying about my stutter makes it worse.
I have choices about my speech.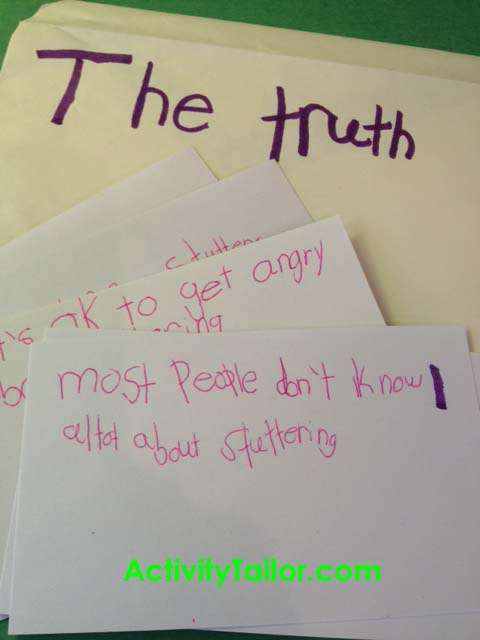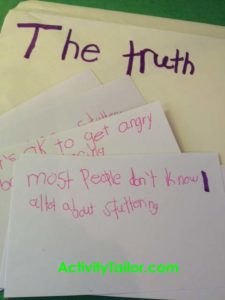 I try to guide kiddos to these truths rather than dictate them. The child writes them down, one per notecard, and we keep them in an envelope for frequent reference and review. They also become great sentences to practice techniques, whether that be easy onset, deliberate stuttering or phrasing.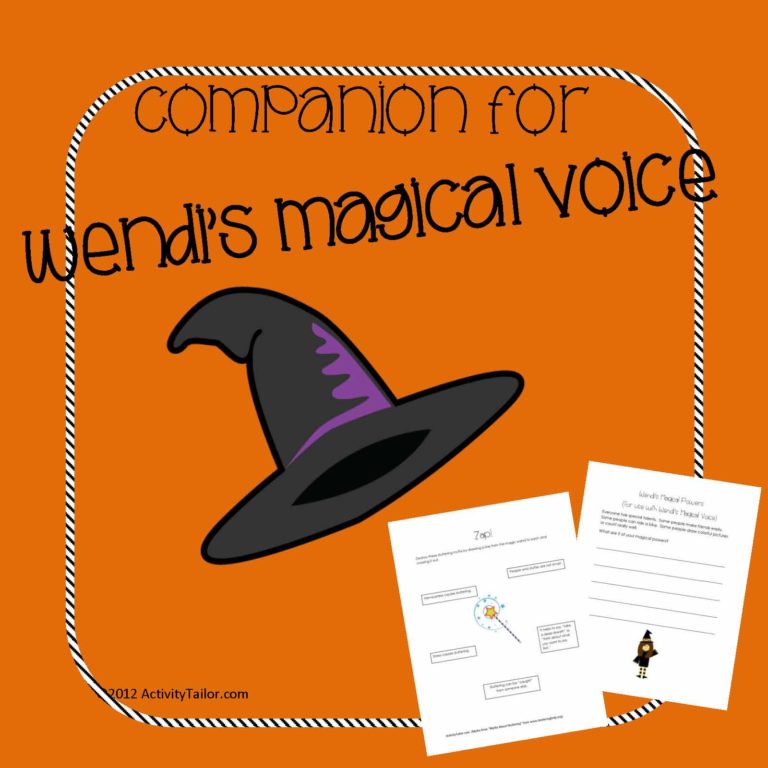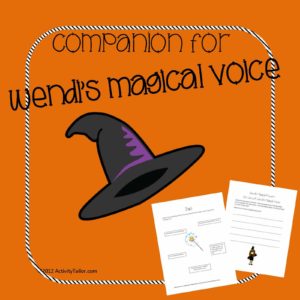 4. Wendi's Magical Voice: I did a post on this back in the fall so I'll just say it's an easy read with good jumping off points for feelings and attitudes.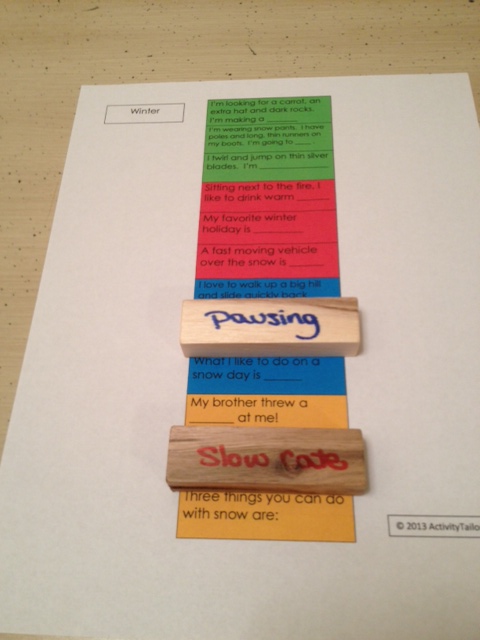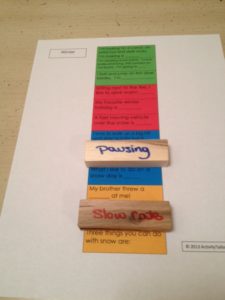 5. I created game mats for Jenga after seeing inspiration on Pinterest. You can pick up my freebie, or check out the entire set here.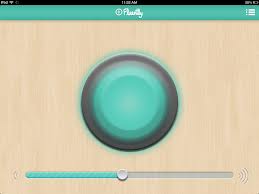 6. Apps: I have both Speech4Good and the new Fluently app (***update 10/22/14 the Fluently app is no longer available, but Speech4Good still is!) which are awesome. It's great for kiddos to have visual feedback for easy onsets and, depending on the child, try some DAF.
I'd love to hear your tips or go-to activities. And, great news, I have a few giveaways as encouragement! Leave your idea in comments (brief is fine, so is lengthy) and I'll choose SIX lucky readers at random. Four readers will receive a copy of Speech4Good lite, one will receive Fluently and one will receive a worksheet packet for Wendi's Magical Voice. (If you don't have an app compatible device and win, I'm happy to send you a download for the worksheets instead.). Winners will be randomly drawn and announced on March 1, 2013. You must enter by midnight EST on February 28, 2013 to qualify.
***Additional note: The Stuttering Foundation is currently offering a 50% discount offer for Better Speech and Hearing Month (May 2014). Use code: BETTER (case sensitive) The DVD series I mention is
ABSOLUTELY worth considering.