***August 14, 2013: Brittney, Anne and Sandy each won a copy of New School Year Kicks! Congratulations!
Who wants to start the school year off with a new pair of shoes?!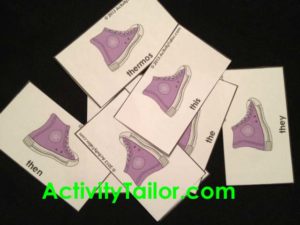 Kick off the new year with "New School Year Kicks!" for articulation and/or language. Choose 15 targets for each player. Three will become their hand, the remaining 12 are placed face down in front of them. Fifty to sixty direction cards are placed in the center of play.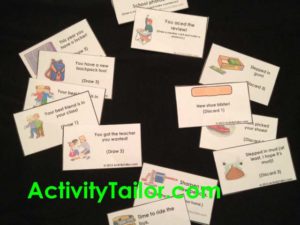 On your turn, select a direction card which will instruct you to "draw" or "discard" a sneaker, saying your target word or answering a language question as you go. The object is to be the first player to get exactly ten sneakers.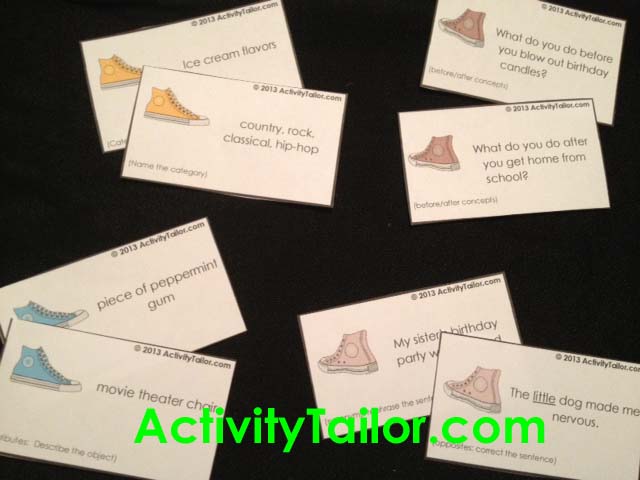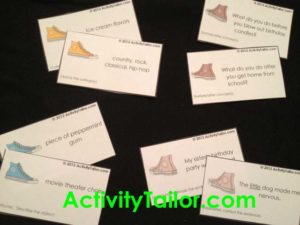 Great for groups since the targets can be different for each player and you can mix language/articulation targets.
Decks for initial, medial and final position sounds are included for:
R: prevocalic and all vocalic Rs are represented
S/Z (including final TS), TH, SH, CH, J
Language decks include: before/after concepts (20), antonyms/synonyms (30), attributes (20 objects to describe), categories (15 generate the items, 15 identify the category)
Click here for more info.
I'm giving away three free copies to start of the school year! Please enter below and good luck! You have until August 13, 2013 at midnight to enter. Winners will be announced on August 14, 2013. You must follow my store on TpT to enter.