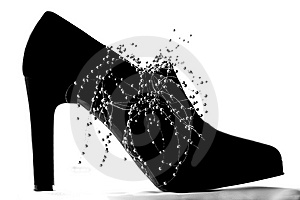 Remember, in private practice you are only paid for patient contact hours (and there may be a lag between time of service and collection). Do some calculation ahead of time, so you don't find yourself in trouble later. For the purposes of an easy example, let's assume you will charge $100/hr.
What is your typical tax rate? It is worth checking in with your accountant for an estimate of this. It may be very different now that you are self-employed. Assuming a total rate (federal and state) of 30%, you will "make" $70/patient contact hour. But don't go shoe shopping yet!
Add up known expenses for the year. (*note: I am not taking into account expenses if you decide to rent space, but for the typical clinician making visits to a home or contract location) These will include: ASHA dues, state license fee, malpractice insurance, continuing education expenses, forms, and possibly others. Let's estimate the total for these items at $1200, and then, just in case, add another 10% to the number—wiggle room in the event of surprises. Now we have $1320 of known expenses.
Come up with a realistic number of contact hours you will have per week. Consider that holidays, vacation, illness, cancellations will have a greater impact on you now, plus you are just getting started….Ok, multiply that number by 52 (weeks in the year) and then, to be safe, decrease it by 10%. So, as an example, you are thinking you'll work part time, about 20 hrs/week. Taking in to account travel time, paperwork, marketing and missed sessions this will probably average 10-12 hrs of patient contact time/week. Let's be conservative, 10 contact hours x 52 weeks= 520 hours. Subtract 10%, and you have 468 hrs. Divide your expenses (estimated at $1320 above) by contact hours (estimated at 468). This works out to just under $3/hr ($2.82 actually).
Which means the maximum you can pay yourself is $67/hr; and, if you do, you will have, theoretically, no additional monies for materials, tests, etc. Honestly, in a young business you'll have lots of "surprise" expenses and wants. Personally, I "pay" myself half my net rate, choosing to leave more to invest in my business. But I'm not the breadwinner in my family, so who am I to judge? Best of luck!
(Disclaimer: I am NOT an accountant. I have never taken an accounting class, nor plan to. This is my common sense way of planning for myself. Use at your own risk!)