In celebration of my blog's two-year anniversary, I hosted a "new blogger contest." I'll be featuring three entrants this week in no particular ranking. This idea comes from Melanie at "The Speech Place." I'm a sucker for organization tools (I can spend hours in a Container Store or any office supply store) and I couldn't resist this nifty cart, particularly the chairs on the side.
Last year I start using the 5 minute therapy approach for articulation and fluency therapy. When I was planning on the where and how of the program, I had to consider how it would work at my school. The intermediate school where I work is divided into two hallways, one for fourth grade and one for fifth grade. There are 12 classrooms down each hallway so it is a very busy place. I wanted to preserve a little bit of the student's confidentiality so I didn't want to sit in the middle of the hall with all the bathroom traffic. I had seen other therapist discuss how they use chairs from the student's classroom but with servicing so many different classes and a shortage of chairs that wasn't going to work either.
In each hallway there is a little alcove that leads to the teacher's lounge. I decided that would be the best place to do therapy. It is located in the center of the hall, out-of-the-way of traffic, and wide enough for my station and teachers to pass. I needed a way to easily move my materials, chairs to sit on, and a desk type area. A former technology teacher had an extra laptop cart so I converted it into my mobile therapy cart. Here is a picture: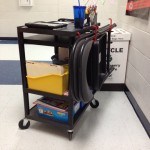 I took hooks that you use in garages to hang bikes and stuff and our fantastic janitor screwed them into the side of the cart. The chairs hang perfectly without getting in the way. I have everything I need on there for therapy: student folders, dice, games, pencils, crayons, highlighters, etc. Of course I also travel with my prize box. The laptop surface is great for the students to use for a desk area.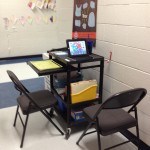 I will be posting additional information about my 5 minute therapy program and the progress that my students have made. Hope you find my experiences helpful in setting up your own program.
Make sure you check out my other post about my 5 Minute Kids Therapy program.
A 5 Minute Kids Therapy Session