Turns out, December 4th is make a "List for Santa Day", so here I go! I have a few items that I'd really like to add to my library….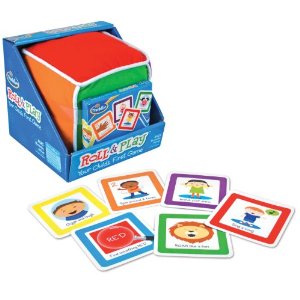 Roll and Play (Thinkfun): This is the cutest looking game! It's designed for toddlers but I think I'd use it with older kids too. Roll the big plush die, choose a card that matches the color on top, and then follow the directions. The instructions include fun directives like, "moo like a cow", "make a happy face" and "sing a song". I imagine using this for multistory directions and memory skills too. Roll the die three times and recite the color order, now choose the instruction cards. Read it once , then flip them over. Can you perform them in sequence? Or maybe I'll pick up the cards and hold them facing me so I can give the directions with an auditory prompt only.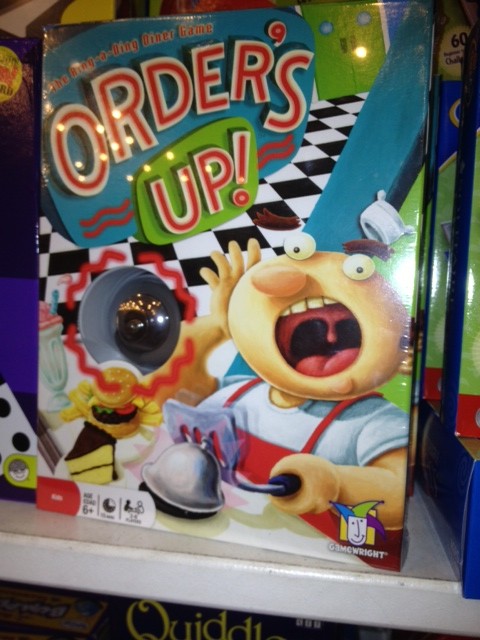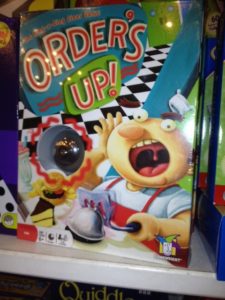 Order's up (Gamewright): This looks so fun! You fill orders in a diner and the game relies on visual discrimination. I haven't had a chance to explore it fully, but I know I could adapt this to a whole host of goals. And it has one of those push-down bells. I could get lots done with a push-down bell incentive!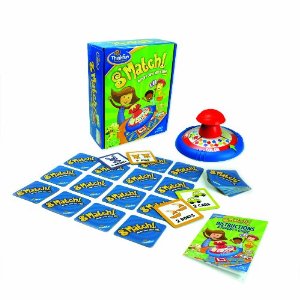 S'match (Thinkfun): Actually, I recently bought this one because I spotted it on clearance, but I had to share. Spin the spinner (warning, it's a little noisy and not every child can tolerate it) and see where it lands: color, number or category. Then choose two cards from the "memory" style array, trying to make a match based on the spun relationship. There are so many goals being addressed here!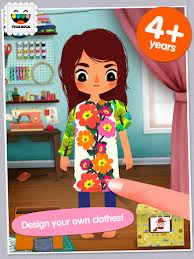 Toca Tailor (Toca Boca): I already use several Toca games (hooray for the hair salon!) and after seeing this one in action during Sean Sweeny's ASHA presentation, I'd love to add it to my collection to work on descriptive concepts. (Toca also has a free Christmas app which allows you to style either Santa or a Christmas tree.)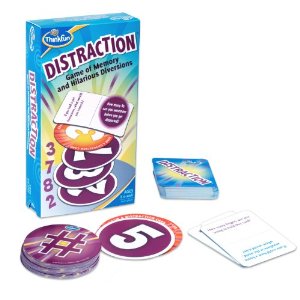 Distraction (Thinkfun): I want this one for me! Players have to remember an increasingly long string of numbers. Now for the distraction! Answer an off-the-wall question before the recitation. I know I'll struggle with this!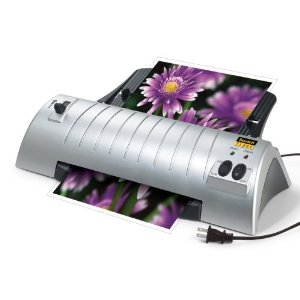 Hot and cold laminator: I've been making a lot more games with reproducibles these days and laminating makes the pieces so much more durable! The cost of laminating at a print shop is discouraging, not to mention the time involved….I'd love feedback if you know of the perfect model for home/education use. Currently, I'm leaning towards the one by Scotch.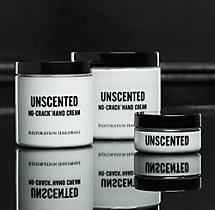 No crack Super Hand Cream (Restoration Hardware): My hands are dry anyway and hand sanitizer does me absolutely no favors. The issue with hand lotions though is that I don't like thin, don't like greasy and I like a subtle scent. This little pot of cream (2 oz) with a mild Meyer lemon scent does the trick for me…and I could really use one in lots of different locations. (Note: looks like they don't carry lemon anymore, so maybe unscented or linen)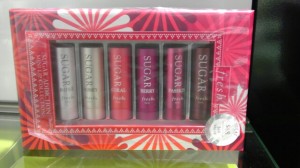 Fresh Sugar minis (Fresh): I have serious love for these lip glosses which aren't goopy and have the right amount of stain. Since I have people looking at my mouth all day (or I see it myself as I sit next to a child in front of a therapy mirror), I've got a thing for lip potions.
And now a gift for you! I have a Christmas gift worksheet that you can download for free in my TpT store! Please take a moment to follow me while you're there. The worksheet is open-ended which means you can use it to target language or articulation goals. Enjoy!
If there is anything I forgot on my list, let me know below.