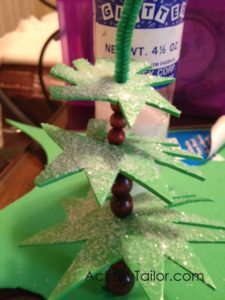 No snow for my town yet, but I can still wander through a winter wonderland, and address comparatives and superlatives (big, bigger, biggest or small, smaller, smallest) while I'm at it.
For you glitter haters, you can skip the glitter.  I will continue to keep you in my thoughts and hope things get better soon.
Materials for one of each tree:
Foam sheets (white sparkly, green with sticky back (only if you plan to use glitter))
3 circle templates, small/medium/large (I use the lids of cans)
(6) Round, white coffee filters
(3) Brown beads in three sizes for a total of 6 per tree, 18 if you make all three trees.
(3) Pipe cleaners (preferably green or "snow")
White glitter (optional)
Bird stickers/pictures of various sizes (optional)
Star bead (optional)
Assembly and Targets: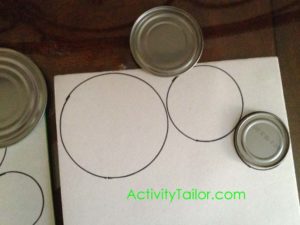 Trace 3 different sized circles on each of the foam sheets.  For the coffee filters I do two circles of each size.  This is your first opportunity to discuss:  big, bigger, biggest or small, smaller, smallest.  Poke a hole in the middle of each.  I use a skewer.
Sort the beads by size.  This is your next opportunity to discuss: big, bigger, biggest or small, smaller, smallest
Take a pipe cleaner and ball up one end just a bit.  Slide on a "biggest" bead, then a "smaller" one, then the "smallest" one.
Slide on the biggest circle, either sparkly side or sticky side up. (Note:  Do not remove the sticker protection until you have assembled the tree.  Trust me.)
Slide on another set of beads.  Slide on the "smaller" circle.
Slide on another set of beads.  Slide on the "smallest" circle.
Add a star bead if you are so inclined.
Repeat the same procedure for the other two trees.  You can use scissors to make the circles more jagged and tree-like (easier to do before putting on the pipe cleaner).  Plain circles give you a more minimalist look.  Ikea trees.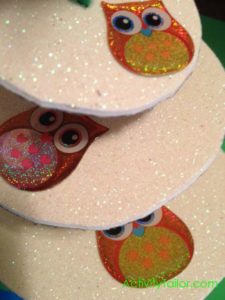 If you can find bird stickers or pictures, you have another opportunity to reinforce these size concepts.  I found these cute owls at Target (and they had three sizes on the sheet!).
If you go all out glitter, be sure the sticky side of the foam is facing up during assembly.  Peel off the sticker backing and start shaking the "snow"!  To capture "extra" glitter and to help with clean-up, you might want to consider doing it over a cookie sheet.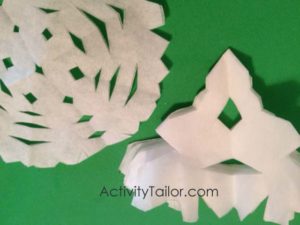 To make coffee filter snowflakes, fold the circle in half, then half again.  Using scissors, snip "holes" in the filter.  I do the "smallest" snips on the "smallest" circle, "bigger" snips on the "bigger" circle and "big" snips on the "big" circle.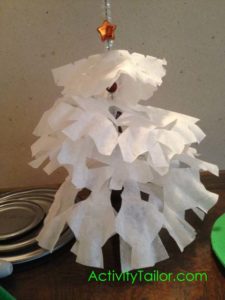 Another option is to keep all the largest beads at the bottom, have the mid-sized ones in the middle and the smallest toward the top.  You can also vary the number of beads if you want to address quantity concepts such as:  more, few/fewer, a couple, etc.
Hope this is the biggest hit for you!